Nexus 7 2 leak reveals Android 4.3, wireless charging

As Google's press event next week creeps up on us, rumors of the next-generation Nexus 7 are heating up big-time. A leaked product information tag of what is said to be the second-gen Nexus 7 shows us what we might expect in the refreshed tablet. These features include Android 4.3, wireless charging, and dual cameras.
The photo suggest that the tablet will also sport an unspecified quad-core 1.5GHz processor, as well as a 5-megapixel rear camera with a 1.2-megapixel front-facing snapper. The 7-inch display will remain as we've known in the past, but there will be support for outputting 1080p video on your TV. This doesn't necessarily mean that the tablet will sport a 1080p resolution, but one can be curious about such a notion.
The wireless charging is a curious thing to note as well, but it's not all too surprising. The Nexus 4 has wireless charging capabilities, and while we haven't seen a Google tablet with such support yet, we wouldn't be surprised to see the next-generation Nexus 7 pack such a feature.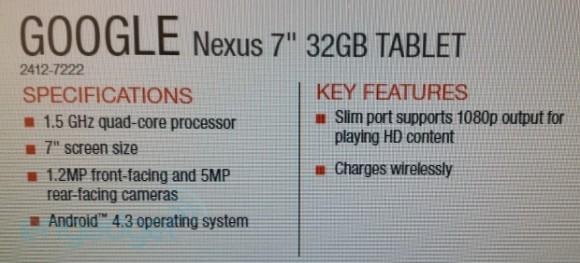 As for a launch date for the Nexus 7 2, it's been previously tipped that we'll see the device sometime later this month, which goes right along with Google's recent announcement of an event coming next week on July 24. That could be the day where we'll see Android 4.3 in the flesh, as well as this heavily-rumored Nexus 7. Of course, we'll be there to give you the up-and-up on whatever goes down, so be sure to stay tuned.
SOURCE: Engadget