Nexus 7 2 full specs and benchmarks surface with codename "Razor"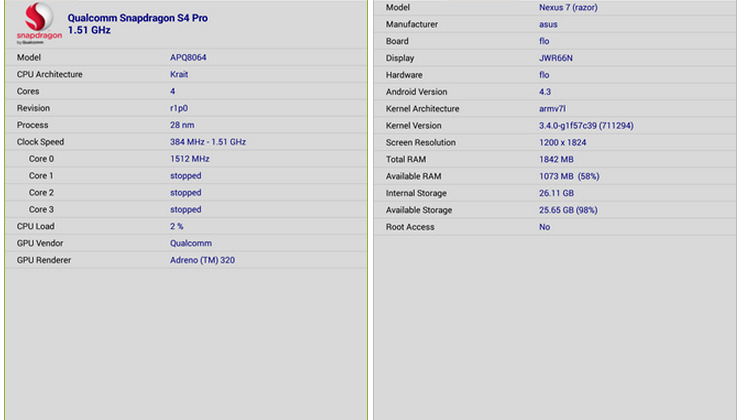 This evening, the new Nexus 7 was spotted in a couple shots posted by a Reddit user, complete with packaging and a timestamp. A few short hours later, the folks over at Android Police have produced a full roster of specifications and benchmarks for the 7-inch slate, giving the most detailed look at the upcoming Nexus 7 yet.
The Nexus 7 is codenamed Razor, and according to the benchmarks features a 7-inch 1920 x 1200 display, as various leaks have suggested. With the bar on the screen, the actual resolution works out to 1200 x 1824 pixels. Under the hood, there's a Qualcomm Snapdragon S4 Pro quad-core 1.5GHz processor and 2GB of RAM. Andreno 320 is pegged for the GPU.
Also as leaks have suggested, the slate runs Android 4.3, but we'll have to wait a bit longer to find out what exactly the changes that come with that entail. As far as the hardware goes, the new Nexus 7 is pretty much on par with the Nexus 4, although the Quadrant benchmarks for the slate show it scoring a bit higher at around 5500 rather than 4200.
The Quadrant benchmarking tool is akin to the more commonly known AnTuTu, and looks at 3D graphics, I/O, and CPU. In the screenshot, we see a comparison between this device and some other handsets, with it scoring above the HTC One X, Motorola ATRIX 4G, Galaxy Tab 10.1, Galaxy Nexus, Optimus 2X, and HTC Desire HD.
A 3DMark graphics benchmark was also run, with Android Police stating they ran it in "extreme" mode with a 1080p action sequence. During the test, the new Nexus 7 scored 7,188, with it staying around the 30fps mark. This is in comparison to the Nexus 4, which scored around 6300, and the previous Nexus 7, which scored 1877 on the Ice Store Extreme test.
SOURCE: Android Police