Nexus 6P hands-on: Google's top-tier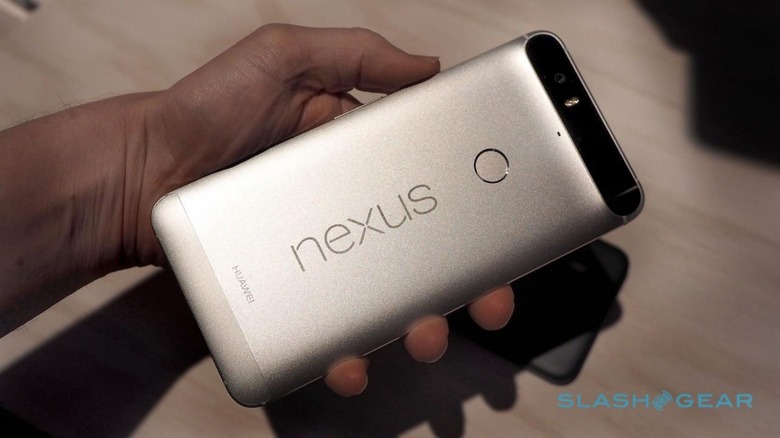 The Nexus 6P is not your average Nexus smartphone – it's not just a baseline device. With a 5.7-inch display with 2560 x 1440 pixels and AMOLED technology, this device instantly competes with the highest-end smartphones on the market today. Google also suggests that its camera technology is top notch – coming with a 12.3-megapixel camera with f/2.0 aperture, 1.55 µm pixels, an IR Laser assisted autofocus, broad-spectrum CRI-90 dual-LED flash, and the ability to capture 4K video at 30fps, this device appears – spec-wise – to be ready to do battle with the best.
This is Google's first collaboration on a Nexus device with Huawei. It's a big day for Google and for Huawei, as we've discussed before. Google and Huawei have chosen to kick the gate open at full gallop, releasing a device with a full anodized aluminum backside, Gorilla Glass 4 up front, and a set of cameras that are top-notch.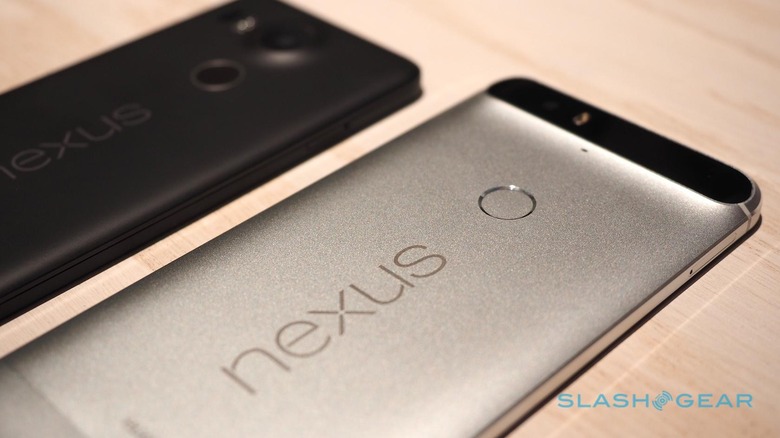 ABOVE: On the left you'll see the Nexus 5X by LG, while on the right you'll see the Nexus 6P by Huawei.
This device feels very similar to the Huawei Mate S, a device with a 5.5-inch display, aluminum back and sides, and a fingerprint scanner to boot. The difference between that and this is in Google's deep involvement.
Here we're not launching Huawei's version of Android, we're launching Google's own Android. Android 6.0 Marshmallow in this case, in a release that's running super quick even here, weeks before launch time (and before final software build, more than likely).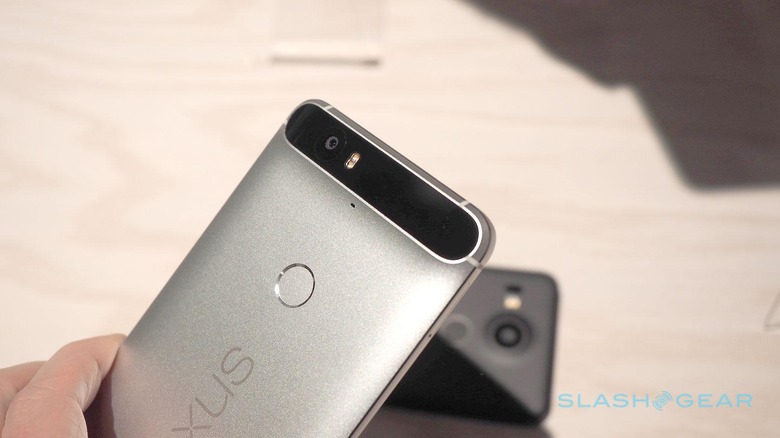 The device's fingerprint scanner here, called Nexus Imprint, works very, very fast. As we said in our Nexus 5X hands-on, this print-scanner could be in the running for fastest scan on the market today. We'll have to test it out at home when we get the chance.
The camera seems to work pretty gosh-darned quick. Google suggests this device and its software are made to provide users with low-light quality photos as well as quick-launch quick-focus abilities. We're looking forward to testing this all out in the field, but for now – it looks like they might be on to something.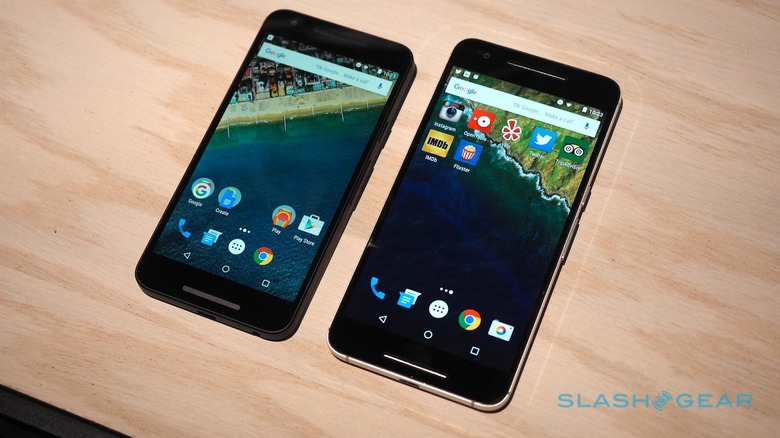 We'll be giving this Nexus 6P and the Nexus 5X a full review in coming weeks. Until then – courage. Stick around the Nexus 6P tag portal here on SlashGear for more.
Nexus 6P Technical specifications
• Operating System: Android 6.0 Marshmallow
• Display: 5.7 inches, WQHD (2560 x 1440) AMOLED display at 518 ppi, Corning Gorilla Glass 4, Fingerprint and smudge-resistant oleophobic coating
• Rear Camera 12.3 MP, 1.55 µm pixels, f/2.0 aperture, IR laser-assisted autofocus, 4K (30 fps) video capture, Broad-spectrum CRI-90 dual flash
• Front Camera: 8 MP, 1.4 µm pixels, f/2.0 aperture, HD video capture (30 fps)
• Processors: Qualcomm Snapdragon 810 v2.1, 2.0 GHz Octa-core 64-bit, Adreno 430 GPU
• RAM: 3 GB LPDDR4
• Internal storage: 32, 64, 128 GB
• Dimensions: 159.3 X 77.8 X 7.3 mm
• Weight: 178 g
• Color: Aluminum, Graphite, Frost
• Material: Anodized aluminum
• Media: Dual front-facing stereo speakers, 3 microphones (2 front, 1 rear) with noise cancellation
• Battery: 3,450 mAh Battery, Fast charging: up to 7 hours of use from only 10 minutes of charging
• Wireless & Location: LTE cat. 6, Wi-Fi 802.11a/b/g/n/ac 2x2 MIMO, dual-band (2.4 GHz, 5.0 GHz), Bluetooth 4.2, NFC, GPS / GLONASS, Digital compass
• Network GSM/EDGE: 850/900/1800/1900MHz, UMTS/WCDMA: B1/2/4/5/8, CDMA: BC0/1/10, LTE (FDD): B1/2/3/4/5/7/12/13/17/20/25/26/29, LTE (TDD): B41, LTE CA DL: B2-B2, B2-B4, B2-B5, B2-B12, B2-B13, B2-B17, B2-B29, B4-B4, B4-B5, B4-B7, B4-B12, B4-B13, B4-B17, B4-B29, B41-B41. Phone is carrier-unlocked with wide-range band support for service providers worldwide. Check with your service provider for more information.
• Sensors: Fingerprint sensor, Accelerometer, Gyroscope, Barometer, Proximity sensor, Ambient light sensor, Hall sensor, Android Sensor Hub
• Ports: Single USB Type-C, 3.5 mm audio jack, Single Nano SIM slot
• Other: RGB LED notification light
This device is on pre-order now from the Google Store online. Google suggests that it'll be 5-6 weeks until this device begins shipping. Have a peek at the gallery below for more images of the Nexus 6P and Nexus 5X.
[gallerybanner p=407036]