Nexus 5 release set for November 1st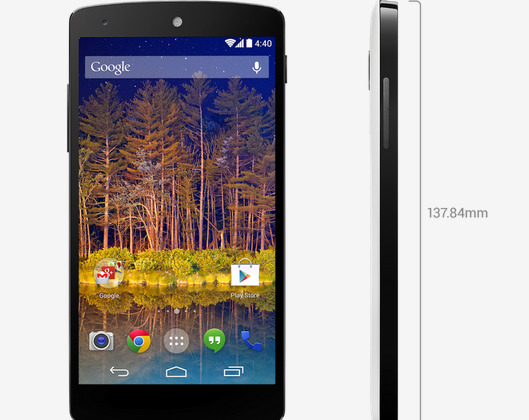 It's a Happy Halloween today as Google releases information on the Nexus 5, their newest in a line of devices running with their own brand of pure Android. This device works with Android 4.4 KitKat, a cross-branding effort with Nestle aimed directly at this candy-laden holiday. Release of this smartphone is preceded by details about its innards, also given a full run-down this early day candy-coated chocolate festival of a celebratory day.
What you'll find with the first Android 4.4 KitKat device is a 4.95-inch display with 1080p resolution covered by a single pane of Corning Gorilla Glass 3. This device will work with a regular candy bar shape and will work with a high-powered 8-megapixel camera with optical image stabilization (OIS) on its back and a 1080p-capable camera up front. You can tell it's good by the massive ring around its back-facing lens – wink wink, nudge nudge.
NOTE: The "November 1st" release date comes from order shipment suggestions from Google Play, which today (Halloween) say that they'll leave the factory in 1-2 business days. Ordering starts immediately.
The device itself is part of a two-tiered system being sold by Google this time around, keeping the LG-made Nexus 4 to offer up two solutions for smartphone seekers. Recent sell-outs of the Nexus 4 along with the device staying around in "sold out" mode for several weeks suggested early that we'd be getting a 4G LTE version of the device here nearer the end of the year.

Pricing is set at $349 USD for the 16GB Nexus 5 while the 32GB Nexus 5 will be available for $399, in both black and white. The Nexus 4 appears to be keeping the same price structure as when it was taken from the market at $199 for an 8GB edition and $249 for a 16GB edition, though it may be that by the time the 4G LTE edition arrives, it'll all have changed. These devices sit aside the 2013 version of the Nexus 7 and the Nexus 10, the whole lot appearing available for sale immediately if not soon!