Nexus 5 graphics benchmarks tipped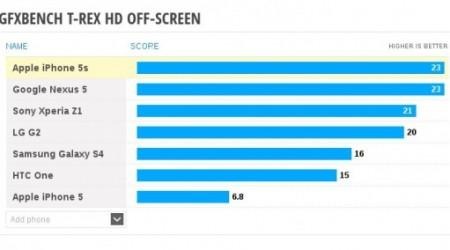 The Google Nexus 5 isn't exactly a secret anymore. The device is rumored to launch sometime in October, meaning we hope to have all the details within the next few weeks. Some new details about the device have surfaced recently in the form of some graphics benchmark results.
The screenshot here shows GFXBench results listing the Nexus 5, the iPhone 5S, and several other modern smartphones. The Apple iPhone 5S scored 23 on the challenging graphics benchmark. By comparison, the Samsung Galaxy S4 scored only 16.
The Google Nexus 5 shows on the benchmark chart to have tied the iPhone 5S with a score of 23. Right behind the Nexus 5 is the Sony Xperia Z1 posting a score 21 followed directly by the LG G2 with a score of 20. There is still no official word on what hardware will be under the hood of the Nexus 5.
Rumors continue to suggest the device will have a 2.3 GHz quad-core QUALCOMM Snapdragon 800 processor. The GPU is expected to be an Adreno 330 powering a full HD resolution display. The benchmarks suggest the device will have impressive graphics performance, but we'll have to wait and see how well the device performs overall once we can get the device in our geeky hands.
SOURCE: Android Community