NextVR aims to transform sports entertainment forever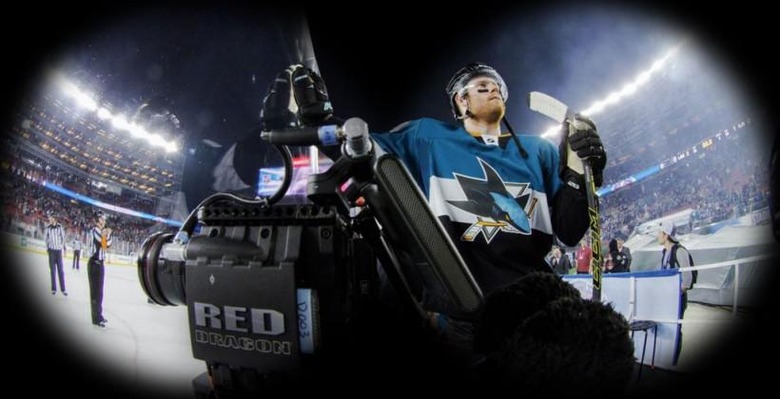 Late last month, the virtual reality specialists at NextVR successfully tested out transmission of an NHL game with Live VR. This means that no matter where you are – just so long as you have an internet connection – you'll be able to watch the game. Not just from whatever perspective the standard camera wishes you to view – but from the perspective of someone who's down in a front-row seat. This week we had a chat with the co-founders of NextVR about how they made headway at a 2015 Coors Light NHL Stadium Series LA Kings vs. San Jose Sharks Game.
This first test made use of a couple of NextVR's own unique camera solutions. You'll see one of these setups below – and another in a photo of a separate event later in this article.
"We captured [this hockey game] with 2 camera systems," said David Cole, Co-founder of NextVR, "our compact 180 camera beside the ice and our 360 camera that was in the stands."
NOTE: The image you see above is OF the VR-aimed camera setup NextVR utilized at this game. The view you'd see whilst viewing with a VR headset would be FROM said camera.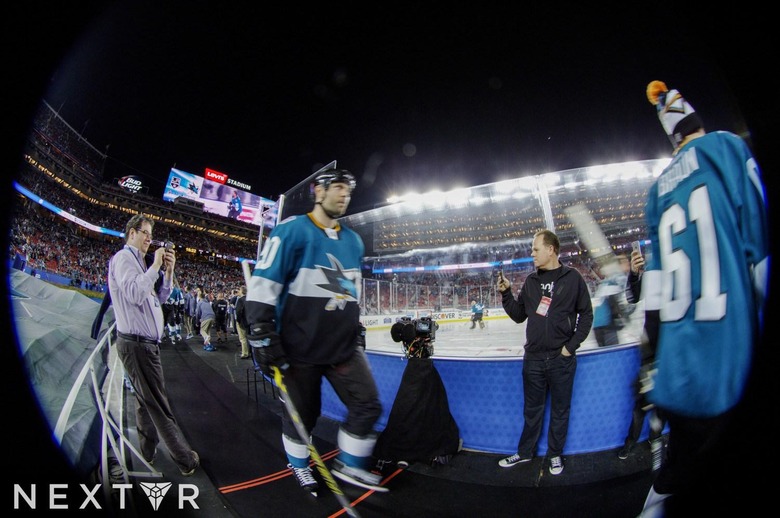 SlashGear: How realistic is it to expect games to be transmitted this way in the near future? Will you be broadcasting any sporting events for the public in the near future?Cole: "It's VERY realistic. We can transmit the full 360, 3D VR experience at between 6-8Mbps."
"That's roughly the same as an HD program. This can be revived over home broadband or mobile networks."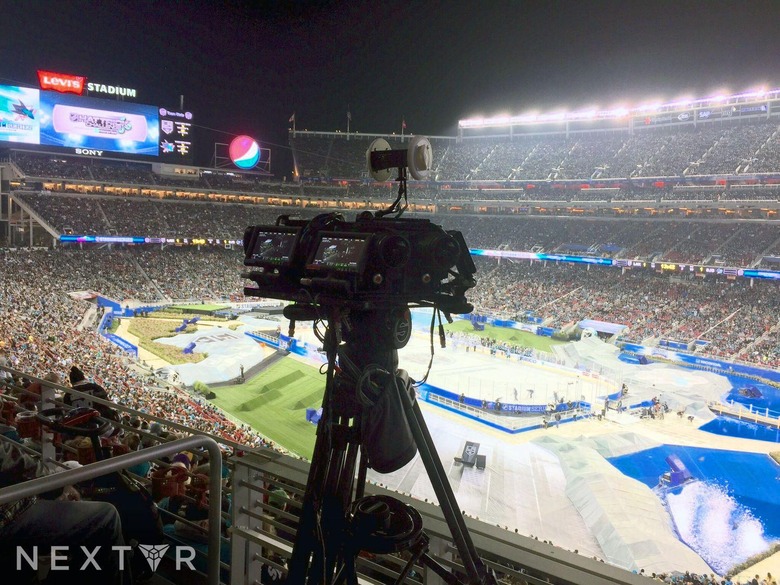 "MANY difference sports will be great in VR," said Cole, "For instance, court and field based sports are a natural fit, but we've also tested golf, extreme sports and even fighting and boxing – all with amazing results."
"Consider having the ability to see the greens at Augusta National as they REALLY are adds phenomenal value to the viewing experience."
SG: What's are the differences between being at a hockey game live, watching a hockey game from home, and experiencing a hockey game with the live tech you've used here?
Cole: "What we deliver IS like being at the game. And we CAN add broadcast elements, such as instant replay, info-graphics, for example into the experience – but – at the heart of this sea-change is "feeling like you are THERE".
"Anyway who has seen our footage can attest to that experience. We also can extend the viewer experience by allowing viewers to move between multiple camera positions at the event. It's like instantly teleporting between the best possible vantage point at the game."
"It's HIGHLY addictive as you might imagine!"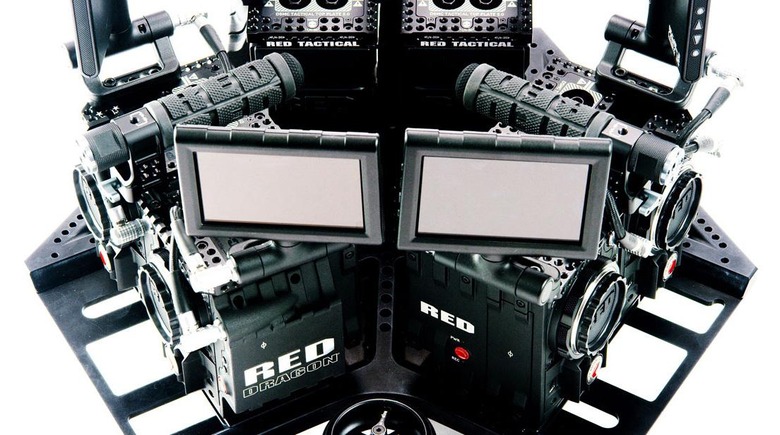 ABOVE: NextVR makes use of a stereoscopic 360-degree VR camera with a cool $180,000 worth of RED 6K cameras to make their solution a reality.
At this time there's no (public) word of when (when, far more likely than if,) the NHL and other sports organizations plan on bringing live VR broadcasts to VR headset owners. NextVR's solution already works with headsets like the Samsung Gear VR – a headset that does not require a high-powered PC to be physically connected to it to run.
Stay tuned as we continue to speak with NextVR on the future of virtual reality: in entertainment, in future hardware, and beyond.