Nextbit Baton Brings iPhone-Style Continuity To Android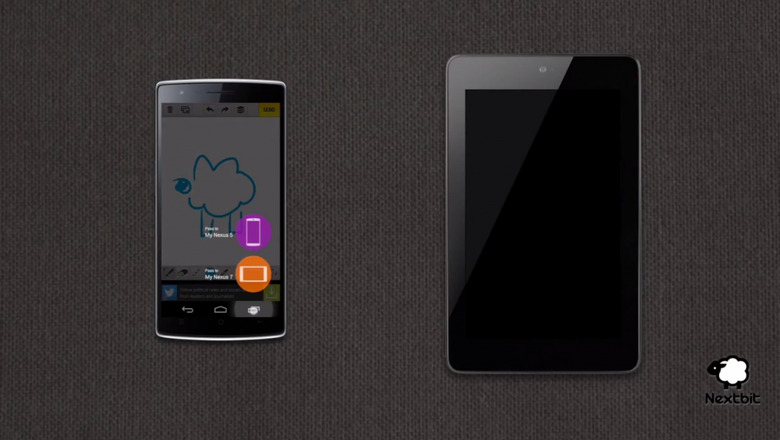 Apple's iPhone and iPad have Handoff in Continuity, but if Nextbit has its way Android will soon be able to boast the same, baking easy app switching between phones and tablets in at the OS level. Revealed today, Nextbit's Baton incorporates not only passing an app – with its current state preserved – between Android devices, but synchronizes apps and data, as well as preserving a snapshot of both in the cloud for backup purposes.
Trying to do what Apple does with iOS on a platform as widely-modified as Android was never going to be easy, which is why Nextbit has targeted just a few devices to begin with, and one very well known modding effort.
The public beta will be released exclusively for CyanogenMod, and compatible with four devices: the Nexus 5, the 2012 and 2013 versions of the Nexus 7, and the OnePlus One.
With Baton installed, you can stop using one app on, say, you phone, and then open it up on your tablet and be at the exact same point. If you've been playing a game, for instance, you can install that on a new device and automatically have your past progress on a different device when you open it up.
Baton requires no extra effort from developers, either: the apps don't need to be specially coded to support it, because it's included in the OS itself.
More interesting, though, is Baton Pass. That saves state – a snapshot of the current status of the app – and allows you to bounce it between your devices. Hold down the app-switcher button and you get a list of compatible hardware: tap "Pass to Nexus 7," for instance, and the app closes on your phone and then re-opens on your tablet.
If you're in the middle of a drawing, for instance, your work-in-progress will be switched across. If you're writing an email, that draft too will be flipped to the second device.
Nextbit might not be a familiar name, but it has some high-profile team members. Founders Tom Moss and Mike Chan come from Google, while on the cloud side there's former talent from Dropbox, Amazon, and Google. VP of Design and Product Scott Croyle jumped ship to the firm from HTC.
"We're showing phone and tablet today, but you can easily imagine TVs and watches," Nextbit's Tom Moss said today at Code/Mobile.
What remains to be seen is how quickly Google moves to replicate Baton, which seems a case of "when" not "if" given past evidence of features. That could be bad news for Nextbit, since even if its implementation is better, having it natively supported in Android would likely be "enough" for most users.
You can sign up to take part in the Baton beta at the link below. You'll need to have one of the compatible devices listed above, as well as be willing to install CyanogenMod.
Meanwhile, there'll also be carrier devices from two manufacturers released this year with Baton support.
MORE Nextbit Beta