Nextar T30 budget PMP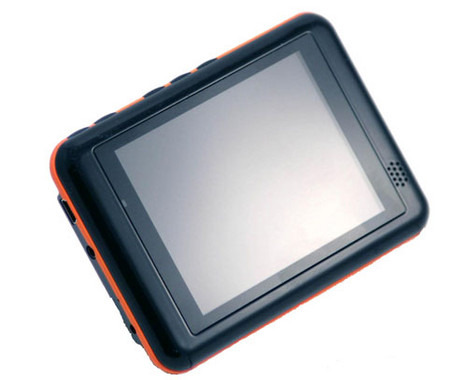 While Nextar insist on calling their new T30 PMP "sleek and stylish", and I'd argue it's actually more "bland and mildly orange", what we can probably both agree on is that there's a fair chunk of functionality for your $99.99.  Built around a 3.5-inch 262k color 320 x 240 QVGA display, sadly not a touchscreen, the T30 packs 4GB of onboard storage, an SD slot for expanding that, and measures just half an inch thick.
Native AVI files can be played on the T30, with software included to convert RM/ VOB/DAT/RMVB/MPG/MPEG/MP4/ASF/WMV/MKV files. MP3 and WMA audio (including that with DRM9 protection) and JPEG/BMP image files work too, as do plain text files. There's also a voice recorder and FM radio. Unfortunately only SD cards up to 2GB in size appear to be supported.
Rather surprisingly for a budget PMP, both a USB charging cable and AC adaptor are provided (you'd normally just see the former); the T30 shows up as a mass-storage device when you plug it into your PC, or can work as a USB-host device.  Battery life is quoted at eight hours audio or four hours video, which is on the low-side. 
Available now, the Nextar T30 isn't going to drag anybody away from Apple's stable, but if you're passing through Walmart, BonTon, Academy, Seventh Ave. or DBL you might decide to throw one in your basket.
Press Release:
Nextar Introduces A Sleek and Stylish Portable Media Player For On the Go Entertainment

Slim 3.5" LCD Display and Hi-Fi Stereo Output Bring Videos, MP3 Music, Digital Photos, and FM Radio to Life

La Verne, CA – June 17, 2008 – Nextar, a designer and marketer of bold and new consumer electronic products with mass appeal, has introduced its newest portable media player to its fast growing mobile device lineup. With its 3.5" flat panel TFT LCD color display and hi-fi stereo output capability, the slim, feature-rich Nextar T30 is ideal for watching videos, playing MP3 music, viewing digital photos, or listening to one's favorite FM radio station.

"Users will find our new T30 portable media player with 4 GB of built-in memory and a SD media slot the perfect solution for enjoying their favorite movies, music, and memories virtually anywhere they want," remarked Eddy Zheng, Nextar founder. "Its slim size of just half an inch in depth and light weight of just 3.7 ounces allows this player to go virtually anywhere with you."

The Nextar T30 has a 3.5" 262k color TFT QVGA display with a resolution of 320x240. The high-quality flat panel LCD offers a brighter display and a smoother motion picture. It ensures that images can be clearly seen, even in bright sunshine. The unit supports USB host transfers allowing users to download content directly from computers.

Power is supplied by a built-in rechargeable 1000 mAH Lithium Ion battery. Uncomplicated recharging is accomplished either by connecting the unit to a PC via the T30's high-speed USB 2.0 port or by the included DC 5V power adapter. Battery life of eight hours for MP3 usage and four hours for watching video can be expected.

The Nextar T30 supports the AVI video format. The unit's bundled AVI converter software allows RM/ VOB/DAT/RMVB/MPG/MPEG/MP4/ASF/WMV/MKV formats to be played as well. Supporting MP3 and WMA digital music formats, it plays back MP3, WMA, and DRM9 audio files in hi-fi stereo. ID3 tag and lyrics display functions provide title, artist, and album information, and lyrics for anyone wanting to sing along.

The unit supports JPEG and BMP photo files. Support for txt.format allows users to read an e-book while listening to music. The new Nextar portable media player has a built-in FM tuner. Digital voice and FM recording capability is also provided.

Other features include: convenient side-mounted buttons; software-controlled lock-up function; built-in 4GB memory capacity; and a flash media slot for up to 2GB SD or MMC cards. Accessories include an USB cable, AV cable adapter, earbuds, and a carrying pouch. Dimensions are: 4.1" (h) x 2.9" (l) x 0.5" (d).

Pricing & Availability

Retailers including Walmart.com, BonTon, Academy, Seventh Ave. and DBL have already added the T30 portable media player to their shelves. It has a MSRP of $99.99 .

About Nextar

Nextar, headquartered in Southern California, is a global designer and marketer of consumer electronics. From the categories it enters to the products it develops and the manner in which it goes to market, Nextar's decisions are based on its unique 'bold and new' philosophy. It currently offers products in the following categories: portable personal audio and video; digital photo frames; GPS navigation; and Bluetooth. In addition to tried-and-true consumer electronic retail outlets, Nextar products also are boldly marketed through non-traditional avenues such as department stores, automotive, mass merchants, food and drug, and do-it-yourself.

Nextar is an affiliate of Tofasco(SM), a rapidly growing company that sells products worldwide in a variety of industries. For further information regarding Nextar, visit its website at www.nextar.com or call toll free 888-849-0846.