Nextar MA809 PMP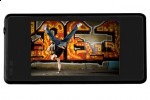 Nextar have announced their latest PMP, the MA809, complete with a 2.8-inch 16:9 aspect 400 x 240 display, 2GB, 4GB or 8GB capacity and microSD slot, all in a device just 0.25-inches thick.  The Nextar MA809 also has an FM radio with recording functionality and a built-in speaker.
Supported formats include MP3 and WMA audio, AVI video (with bundled software to convert footage into something the MA809 will play) and JPEG, BMP and GIF images.  Connectivity is via USB 2.0 connection, but unfortunately the microSD slot is limited to cards up to 2GB in capacity.
Other specs include a voice recorder, eight-mode equalizer and a rechargeable Li-Ion battery good for up to 8hrs music playback or three hours video.  It'll be available in Q2 2009, priced at $99.99 for the 2GB, $119.99 for the 4GB or $149.99 for the 8GB; not exactly the most alluring or innovative PMP, but it's bound to find a few takers when it lands at Sears and other retailers.
Press Release:
Nextar Portable Media Player Serves as Personal Home Theater

Sleek Unit Features 16:9 – 2.8" Display, Audio and Video Capability, and Is Only .25" Thick

La Verne, CA – March 16, 2009 – Nextar™, a designer and marketer of bold and new consumer electronic products with mass appeal, announces the addition of a slim, sleek portable media player that is only .25" thick to its lineup. The versatile unit, model MA809, includes features such as a TFT display with a 16:9 aspect ratio, MP3 capability, and an FM tuner that make it ideal for use as a personal home theater. It will come in 2GB, 4GB or 8GB capacities as well as additional support for a 2GB Micro SD card.

"The new Nextar portable media player comes with everything users need to enjoy their own play-anywhere personal home theater," remarked Eddy Zheng, Nextar founder. "Crisp, clear audio with MP3 and WMA file support; 400x240 image resolution shown in 16:9 wide-screen format, FM tuner with FM recording, integrated voice recorder, and built-in speaker are all included. It even has stopwatch and calendar capabilities. Anyone who enjoys the latest in personal AV products will love this player."

For clean, crisp video and photo viewing, the Nextar MA809 portable media player offers a 2.8" TFT display with wide-screen format and 400x240 resolution. It supports converted AVI video format (Video Converter Software is included in the package) as well as JPEG, BMP, and GIF photo formats. Audiophiles will enjoy listening to their personal MP3 or WMA music or their favorite FM radio station on either the built-in speaker or provided earphones. An integrated voice recorder is also included.

Other features include an eight-mode equalizer with normal, MSEQ, rock, pop, classic, bass, jazz, and user EQ; support for 20 languages including English, Spanish, German, French, Russian, and Japanese; and a high-speed USB 2.0 interface.

Power is provided by a rechargeable Lithium Ion battery, which is supplied. A fully charged battery provides up to eight hours of continuous music play or up to three hours of video viewing. The unit is DRM9 compatible. It is fully upgradeable to any future formats and features.

Pricing and Availability

The Nextar MA809 portable player will be available in Q2 2009 at Sears and other leading retailers across the U.S. It has a SRP of $99.99 for 2GB capacity, $119.99 for 4GB capacity, and $149.99 for the 8GB capacity model.