Next Samsung Galaxy phone for USA tipped under $100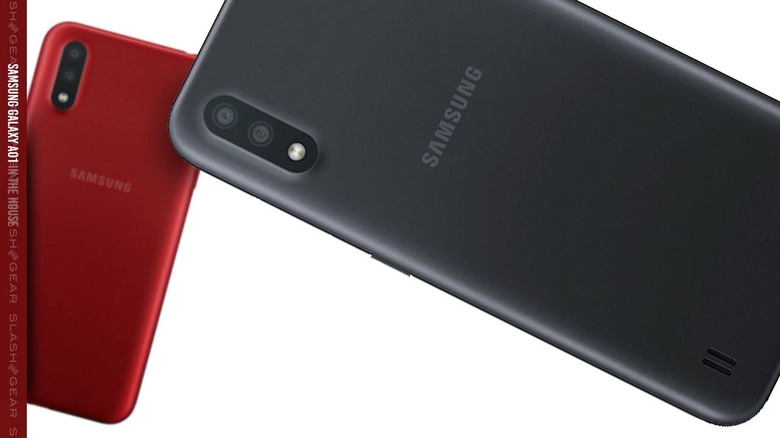 The Samsung Galaxy A01 was announced by Samsung with a mysterious release schedule in December of 2019. Here in January of 2020, an FCC listing leads us to believe that this device – a perfect follow-up to last year's entry-level Samsung Galaxy A10 – will appear in the USA imminently. The Samsung Galaxy A01 has a smaller display than this predecessor, with the same amount of pixels, but works with AMOLED technology rather than IPS LCD – and it'll most likely cost less than $100, total.
The Samsung Galaxy A10 can be found at carriers here in the USA like Boost Mobile, coming in at around $89 USD – less than $100 where the biggest and best Galaxy smartphones cost well over $1k. The Galaxy A01 works with a brighter, more dense display than the A10 – AMOLED with the same amount of pixels packed into a smaller space.
The Samsung Galaxy A01 works with a 5.7-inch "Infinity-V" display. That's Samsung's brand name for a water drop notch in a display that covers a significant portion of the front of the phone. It's nothing particularly extraordinary, here, since there's also a significant chin bezel and a set of three other very visible bezels on the three remaining sides of the display.
The back of the phone, on the other hand, is quite handsome indeed. It features the Samsung brand name and a vast, matte, flat, space of color. Red, Blue, or Black will be the color you'll choose, and a two-hole speaker grille and a pill-shaped camera array are fit gracefully amongst the single tone.
The cameras appear in a flat array with elegant sloped sides. The backside camera array has an LED flash, a 2MP camera for depth sensing, and a main 13-megapixel camera. The notch up front contains a single 5-megapixel camera with a likely baseline level quality to its abilities to snap photos and capture video.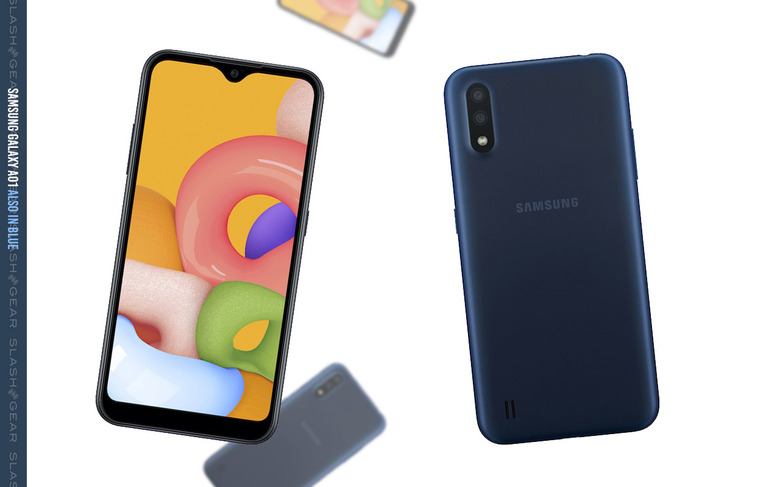 Inside is a (as yet unnamed) octa-core chipset with 16GB internal storage (with potential for 512GB more with microSD card storage) and 2GB RAM. Also inside is a 3000mAh battery and Android 10 with Samsung's own One UI 2.0 software. Bluetooth 4.2 is included along with a 3.5mm standard-sized headphone jack.
As noted by SamMobile, this device has passed certification with the FCC. This would indicate that the Samsung Galaxy A01 will be released in the USA in some capacity.
When and for how much, we do not know, but given clues dropped by Samsung with past releases, it'd be a SHOCK to find this phone cost more than $100 USD. Two versions appeared with the FCC, one likely headed for Verizon as a prepaid phone, the other going to Metro PCS.