Next iPhone in Final Testing Stage, Launches in September

Word has it that Apple is currently in the final testing stage, that being the AP stage, of their next generation iPhone. This means that the device is being carried around by high-level Apple and carrier executives, and we can expect the phone by September. This set of factoids comes from a source speaking with 9to5Mac that'd previously been "accurate" in providing inside tips. This news also came attached to some Verizon bits including the idea that Verizon and Apple have yet to strike a deal regarding FaceTime over 3G. Whether or not that means they'll be waiting until 4G LTE is still up for question.
The current word from this same source is that the newest generation iPhone will be out in September of this year, and that carrier support for FaceTime is still being worked on, kinks being ironed out regarding iOS 5's support for over the air updates. Whilst taking a snoop around some iOS 5 SDK files they had lying around, 9to5Mac located references to "N94" and "N93," both of which are apparently unreleased iPhone models. The N94 model is more than likely the iPhone 4 with A5 dual-core chip that Apple is supposedly sending out to developers as we speak.
The N93 is more than likely simply a variation of the N94. what this more than likely means is a carrier difference, noting that with the current model, GSM is N90 and CDMA is N92, this pointing toward such a situation quite blatantly. Could this new model be being prepared for Sprint or T-Mobile? We shall see!
Additionally 9to5Mac have found rather disheartening connections leading to the following image: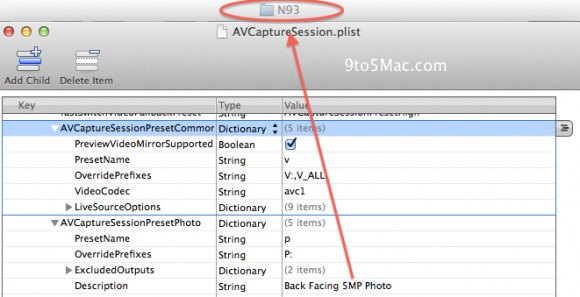 This is the same sort of situation that revealed the iPad 2 to be having the same camera as the fourth-generation iPod touch, now showing the newest generation iPhone to be rolling out with the same 5 megapixel sensor as found in the iPhone 4.
All this said, if you were asking yours truly, I'd say look for a slight reboot of the iPhone. Nothing too drastic – perhaps a bit bigger than the launch of the Verizon iPhone, but it'll be no iPad 2. Look for a major reboot inside 2012, this 2011 model will be made simply to accommodate iOS 5 in its best form.
[via 9to5Mac]