Next-gen Nokia touchscreen phone leaked?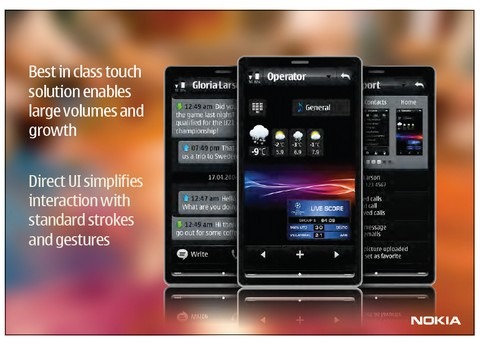 Color us sceptical with so little to go on, but Journal du Geek report that Nokia has been showing off the following teaser advert at their Capital Markets Day in Brooklyn on Thursday.  The image shows an as-yet unannounced Nokia device with a slim silver bezel, full touchscreen interface and minimal hardware controls, with the tagline "Best in class touch solution enables large volumes and growth".  Update: New information after the cut.
Also included is the text "Direct UI simplifies interaction with standard strokes and gestures".  The handset itself could be a keyboard-free version of the new Nokia N97, intended to take on the iPhone 3G more directly with a slimmer chassis but the new smartphone's boosted feature set.
We're waiting for a comment from our sources at Nokia as to the authenticity of the image, together with any details they might have for us.  Up until then, we'll just have to cross our fingers that this handset – or one like it – is in Nokia's future.
Update: Our contacts at Nokia image tell us the image is authentic, but that it's not an upcoming device.  Instead, it's intended to show off new UI enhancements.  Our source confirmed that there were no new devices announced at Capital Markets Day.