Next-Gen MacBook Pro with Retina eyes-on [Video]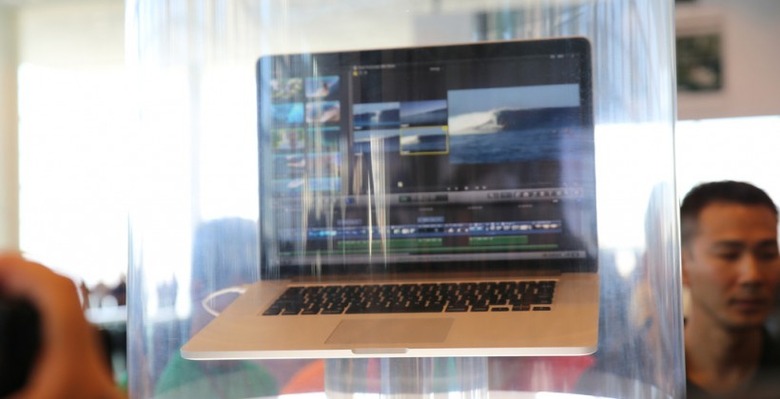 Apple's new next-gen MacBook Pro with Retina Display was the star of WWDC 2012 this morning, and we couldn't want to check out the 2880 x 1800 15.4-inch screen for ourselves. Right now, that's all we can do: Apple has its new MacBook Pro under glass for the moment, meaning we'll have to wait a little while longer before we can go fully hands-on. But one thing's for sure: this is a super-slick notebook. Update: Video after the cut!
The styling is unmistakably MacBook Pro – there's none of the taper of the MacBook Air, for instance – looking like the existing model (which will stay on sale, upgraded with Ivy Bridge processors) only condensed down. The ports have been usefully split between both sides – none of the struggles getting two fat USB sticks or modems to cohabit alongside each other.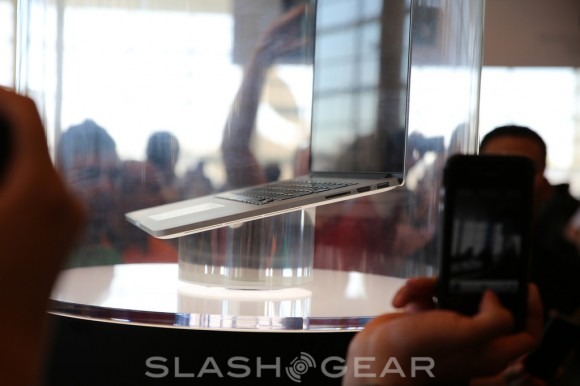 It's the display that's the real joy, of course. Through glass you're not getting the whole picture, but already it's clear that there's simply masses of extra detail on offer. Apple has already updated its key apps, but the true tipping point will be when – as with the Retina Display on the iPad and the iPhone before it – third-party developers and website managers bring their content up to scratch.
The next-gen MacBook Pro with Retina Display is going up for sale today, and shipping immediately. We'll have more on it very soon (along with some early video.