Apple unveils next-gen MacBook Pro: Retina display from $2,199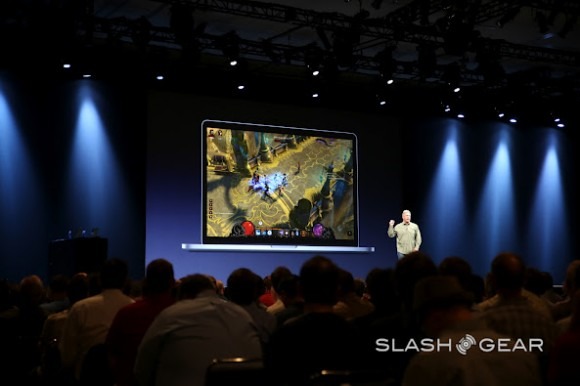 In addition to the refreshed MacBook Airs, Apple has also unveiled the next-generation of the MacBook Pro. It's a 15.4-inch model with a Retina display, with a resolution of 2880 x 1800 and a pixel density of 220PPI. In addition, it's thinner and lighter than the current MacBook Pros, coming in a 0.71-inches thick and weighing 4.46 pounds. Apple say it's 25% thinner than the current MacBook Pros, and almost as thin as the MacBook Air.
Apple say that the display is the world's highest resolution on a notebook, and work was specifically undertaken to try and reduce glare on the display by up to 75%. On top of that, it has a higher contrast ratio than the average laptop display, as well as excellent viewing angles.
The design is very familiar to the current MacBook Pros, maintaining a constant case design instead of the taper on the airs. The next-gen MacBook Pro still makes room for plenty of horsepower, with an option for a Core i7 quad-core processor up to 2.7Ghz, 16GB of RAM, and an NVIDIA GT 650M GPU. On top of that, it can be configured for up to 768GB of SSD storage. In terms of ports, there's two USB 3.0 ports, HDMI, Thunderbolt, an SD card slot, and a new MagSafe 2 adapter, which has a reduced size over current offerings.
Apple also reworked the internals of the machine in order to pack as much inside a slim a chassis as possible. The company says trying to drive the display on top of the raw specifications proved a challenge, but they added extra batteries to make it happen. The next-gen MacBook Pros are rated for up to 7 hours of battery life, and 30 days of standby time. Finally, Apple has included a FaceTime HD camera, dual microphones, a backlit keyboard, and "the best stereo speakers" the company has ever put into a notebook.
The base model of the next-gen MacBook Pro will come with the Retina display, a 2.3Ghz quad-core Core i7 processor, 8GB of RAM, and 256GB of SSD storage for $2,199. It begins shipping today.