Apple confirms MacBook refresh - still have optical drives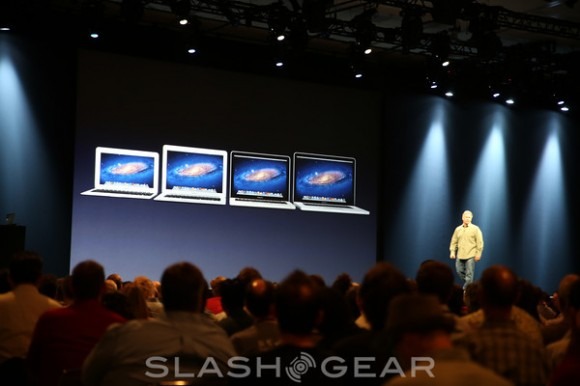 Apple's annual WWDC event has finally started this morning and we are ready for plenty of exciting news, and I'm sure we aren't alone here either. Right off the bat Apple's Phil Schiller has jumped straight into the Macbook Pro lineup. Confirming they have plenty of new stuff to show everyone.
It looks like all of those leaks from this morning were quite accurate. Talks of 512GB SSD options, USB 3.0, 720p front facing facetime cameras and more. Some of more detailed specs include: Ivy Bridge processors again, up to 2.7Ghz quad-core i7 options, plus up to 8GB 1600MHz memory and NVIDIA GeForce GT 650M GPU with up to 1GB of memory. Those NVIDIA Kelper graphics should really give things a boost. Do I smell more gaming?
Hey, look Apple just mentioned optical drives. It looks like this refresh the MacBook Pro will still have optical drives (DVD's and such) and won't go all cloud and USB. Obviously we have tons more coming soon about the MacBook Air, and hopefully the Mac Pro so stay tuned. Developing...