Last month, our own Chris Burns reviewed the Looxcie LX1 video camera, a small camera that you wear around your ear, like a Bluetooth headset. The camera gives a first person perspective, and connects to your phone via Bluetooth. Now, Looxcie has taken the next generation camera, the LX2 to the FCC. There seem to have been some improvements, though we will have to wait for more information to know the full feature set of the new camera.

From the FCC filing, the LX2 looks a little smaller than the LX1, and has a USB dongle. Also, the device supports Bluetooth 2.1. The LX1 topped out at 480p, so hopefully the LX2 will do better than that, and also offer more video storage and better battery life. The original Looxcie only had 2 hours of battery life, so I'm pretty sure they would want to improve that. The device isn't meant to store large amounts of video, and since you connect it to your phone, it's easy to move the video off the device, but still, more storage space would be an improvement.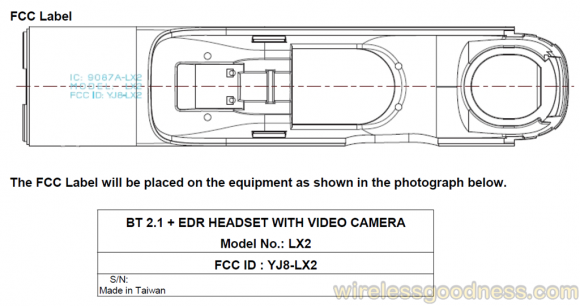 Chris "Burnsy" Burns was impressed with the Looxcie in his review, it did what it said it would do, and worked smoothly. It was also comfortable to wear, and didn't make people nervous when being recorded (always a plus). Burnsy's aunt did ask him, "what in the heck do you have on your head now?!", but aunts can be that way. The LX1 sells for $200 MSRP, but is selling on Amazon for $159. We'll be looking forward to hearing from Looxcie about the LX2, and will be sure to update you on the new features, pricing, and all the details once the device has been officially announced.
[via Wireless Goodness]