Next Apple TV remote tipped to have a touchpad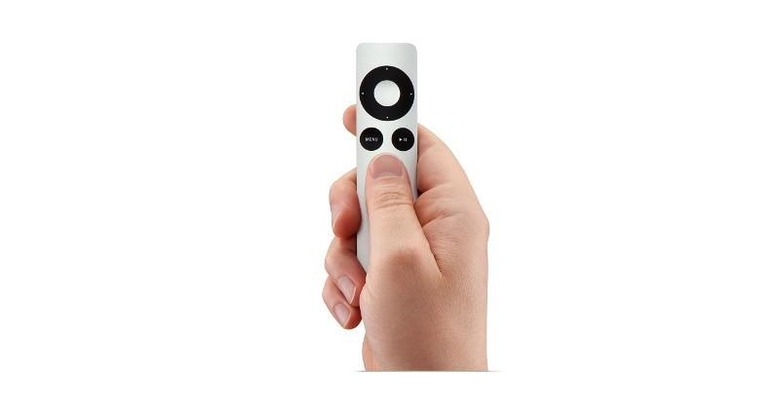 It seems that Apple is taking a U-turn on many of its hardball stances, most of them attributed to the late Steve Jobs: a non-skeumorphic interface, a large screen iPhone, a smartwatch, and probably a huge iPad that might come with a stylus. Now there might be yet another design decision that would go against its previous gospel: an Apple TV remote with a touchpad. Apple has been preaching the simplicity of its remote for years but now it's adding a bit of complexity. At least it's not doing so with a dozen or so buttons.
The current Apple TV remote is an example of simplicity. The long metallic device is reminiscent of the design of the iPod, with a large circular dial-button at the top and two smaller buttons flanking it at the bottom. Apple has hailed this design, which was the product of endless debates, contrasting it with conventional remotes that had dozens of confusing buttons.
However, the TV trends are changing and those buttons might no longer be sufficient for what Apple has planned for the next Apple TV. The addition of a touchpad perhaps isn't exactly that shocking, given Apple's growing portfolio of accessories that integrate the input method. On the remote control, that touchpad could very well be used for scrolling through content and interfaces, hinting at some changes to the Apple TV experience. That said, due to the addition of this new component, the remote is expected to be slightly larger, actually thicker, than the current version.
As to the Apple TV itself, the biggest expectation for Apple's new box will be the addition of live TV streaming, a rumor that has been going around for quite a while, seemingly confirmed by content providers. It's not all good news, however, as the upcoming Apple TV is also said to be missing out on 4K, a disappointing flaw in an period when almost everyone in the TV and video industry is pushing the technology forward.
However it turns out, the next Apple TV will definitely be a point of interest, considering it has been years since Apple even paid attention to the device. Apple is expected to make the big splash this coming WWDC 2015 in June, leaving little more than a month to wait in anxiety and excitement.
VIA: New York Times