LEGO Speed Champions Porsche 911 RSR and 911 Turbo 3.0 LEGO Review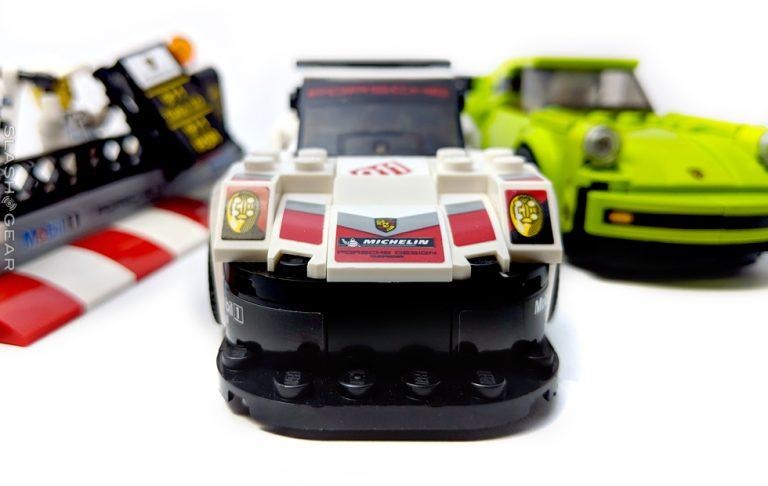 SlashGear covered the beginning of the 2018 New York Auto Show this week with some drool-worthy photos of tomorrow's most excellent vehicles. Meanwhile here at home base we're taking a peek at high-end cars on a much smaller scale: LEGO. While you're welcome to look at the human-sized cars we've captured in NYC this week in photos, we've also got a closer look at set of pocket-sized cars you'll potentially find a bit closer to home.
Behold, a couple of manufacturer-approved LEGO vehicles complete with a curb, fence, and adjustable race position board. At the sideline you'll find a race official minifigure and a checkered flag, and an adjustable lap counter with laps 1 through 4. Stickers adorn almost every part of this set's pieces, save a couple of rather important parts of the cars.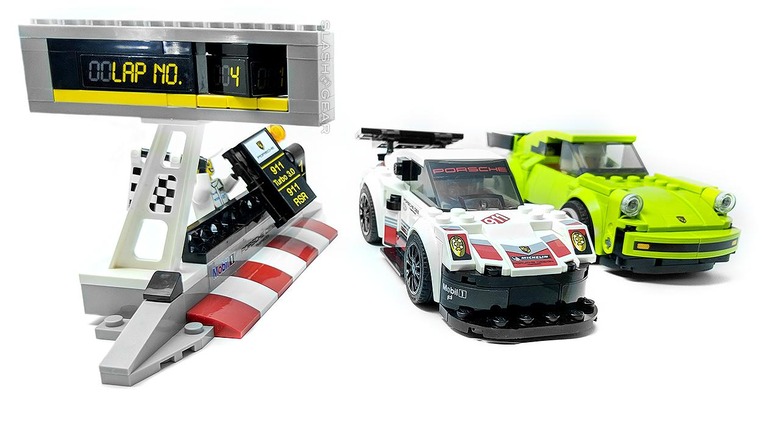 Just like a real set of racers, these vehicles require that the driver get a little creative when getting in or out. Here the windshield and top are meant to be removed and replaced when drivers are starting or ending a race.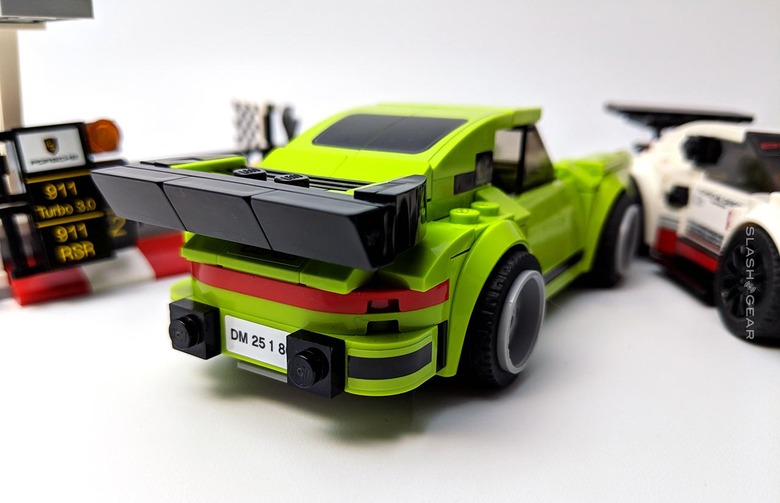 The vehicles are authentically colored – or as close as we're going to get without literally mixing a new plastic tone to meet the green. That means white, black, and red for the Porsche 911 RSR and a bright retro green for the Turbo 3.0. Both vehicles feature rubber tires, but it's the RSR that gets its own uniquely fashionable set of hubcaps.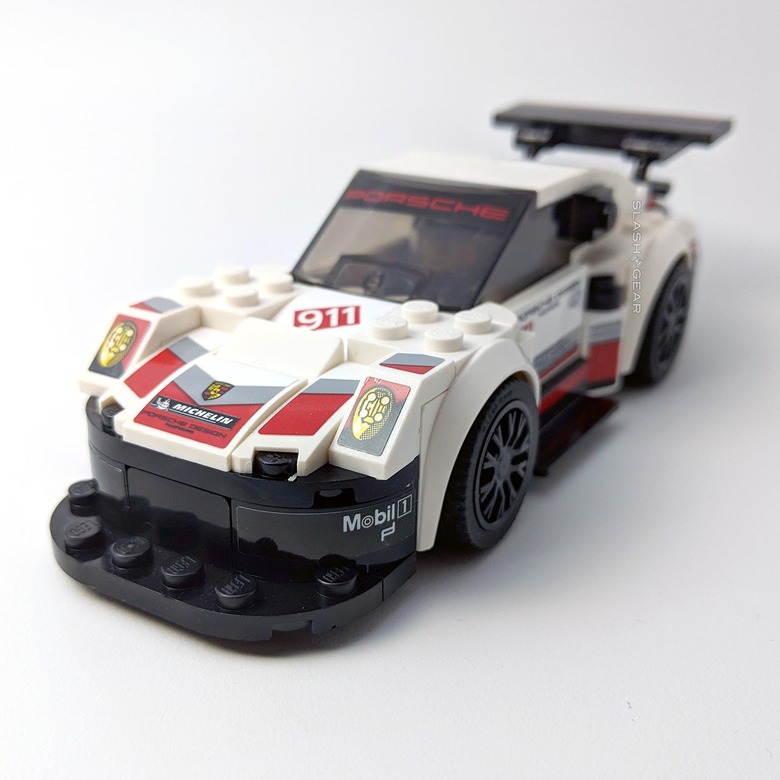 You'll find other interesting caps in sets like the Ferrari 488 GT3 "Scuderia Corsa" and the Ford Fiesta M-Sport WRC, too. A couple of extra caps are included with this set so you'll be able to roll on with your own unique builds on the side. If you want to go far more major, take a peek at the LEGO Technic Porsche 911 GT3 RS – it, too, is quite radical.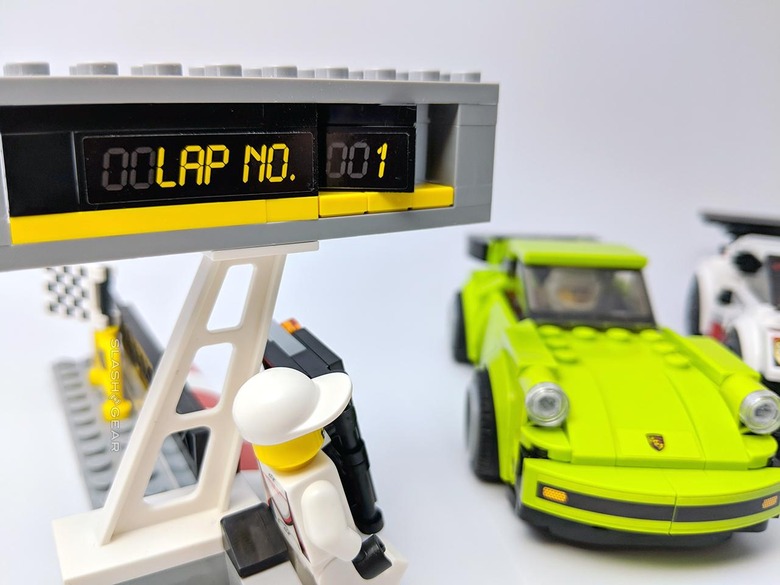 One nice thing about the relatively simple builds here is the small number of bricks needed to build one car. If one wanted, it wouldn't be too difficult to use the more rare pieces to re-build either vehicle in alternate colors. It's just the sticker'd pieces that you'd need to consider buying an extra sheet, if that's your sort of deal.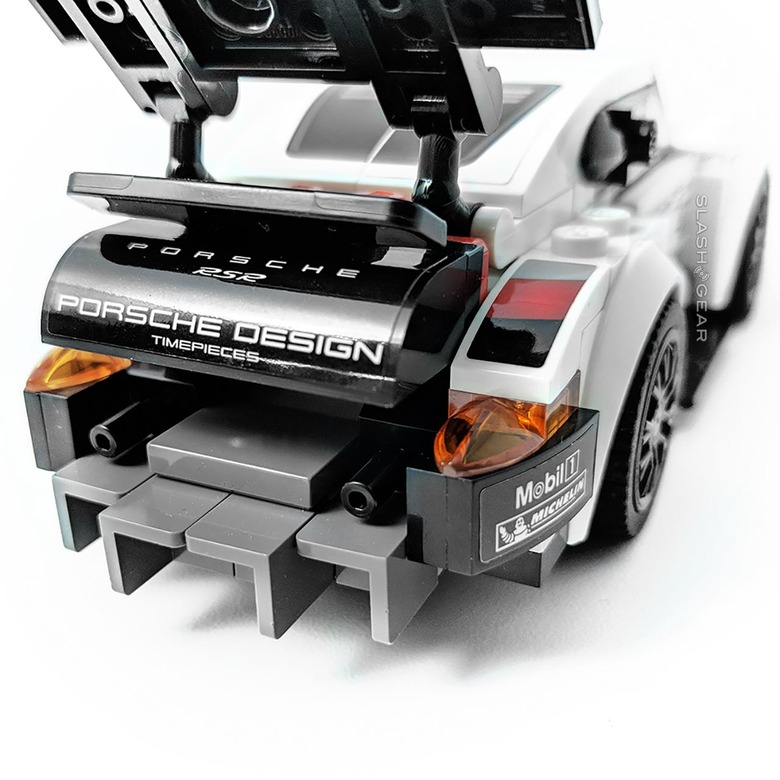 ALSO: Hey, also, also look at this masterpiece of a set of two pieces that make up the whole angular trunk area. It is amazing and worth the whole price of the set on its own because of the smoothness of the angles.
UPDATE: Take a peek at how wild the greener of these vehicles looks at life-size. It's up and out at the Porsche Museum in Germany, posted to Facebook on April 8th, 2018. Behold!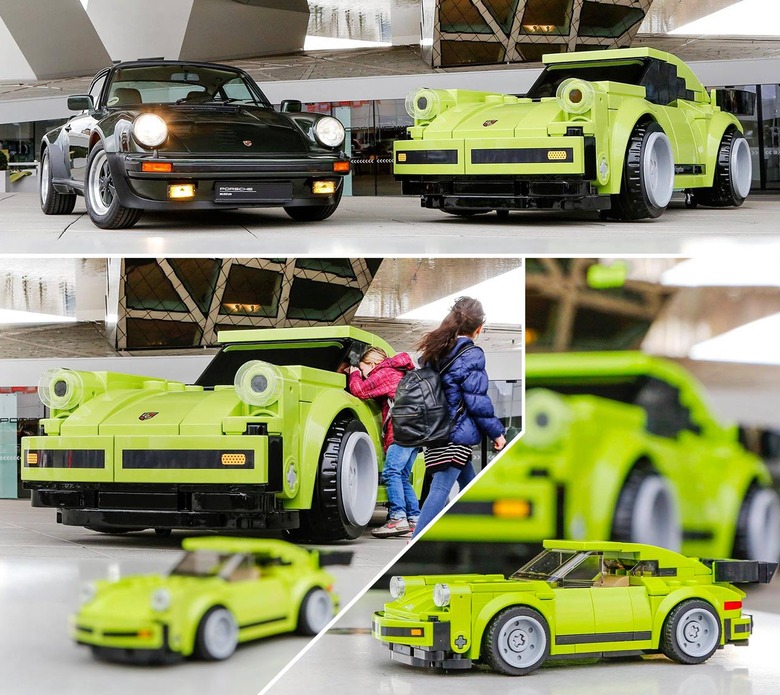 These vehicles are part of an expanding set of equivalent sized vehicles in the "Speed Champions" brand collection. You'll find vehicles from a number of big-name brand racing brands, like Mercedes-AMG, AUDI, and McLaren. The set we've got here is set number 75888 LEGO Speed Champions "Porsche 911 RSR and 911 Turbo 3.0." This set has 391 pieces and can be found for right around $30 USD wherever fine LEGO brick sets are sold.