New Xbox 360: everything you need to know

Today, Microsoft announced a new, redesigned version of the Xbox 360. While the company's E3 2013 press conference was mostly about the Xbox One, it seems they want to keep the Xbox 360 relevant for just a bit longer. After all, gamers still have until November before they're able to pick up a fancy new Xbox One, so a redesigned Xbox 360 will happily fill the void in the meantime.
Frankly, Microsoft did a bang-up job of keeping this little gem quiet, and we weren't expecting anything like this to pop up during the presser, but nonetheless, it did and it's here. The redesigned Xbox 360 is smaller and quieter than before, plus it's looks are now on par with the Xbox One's straightforward design, although the Xbox 360 still retains some of its curvaceousness.
As for internal specs, they're staying the same, so the new Xbox 360 isn't faster or anything, but it just merely has a new look that design junkies will want to take notice of. The same rings true of the Kinect sensor and Xbox 360 controller, except these two accessories are exactly the same as before — no design changes or anything with the controller or sensor.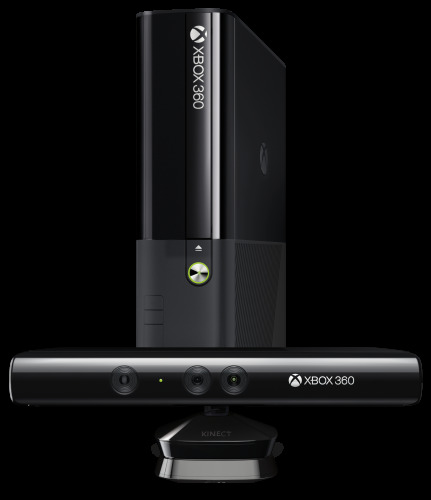 Microsoft also announced that "hundreds of new games" will be headed to the Xbox 360 over the next couple of years (including Grand Theft Auto V, Call of Duty: Ghosts, Battlefield 4, Assassin's Creed IV, and Batman: Arkham Origins), so if you're adamant about sticking to the Xbox 360 until Xbox One prices come down, Microsoft is definitely giving you all you need to maximize the experience on your last-gen console. Furthermore, the company will bringing two free games per month to Xbox Live Gold members starting this month with Fable III. Next month's games are set to be Assassin's Creed II and Halo 3.
The redesigned Xbox 360 is available starting today in the US, UK, Canada, and Australia, with more regions coming soon. As for price, the 4GB edition without a Kinect will cost $199, while a 250GB model will cost $299.99. A 4GB system that includes a Kinect sensor will also cost $299.99 — same pricing scheme as we've previously seen.