New Virgin Galactic SpaceShip Two To Be Completed In February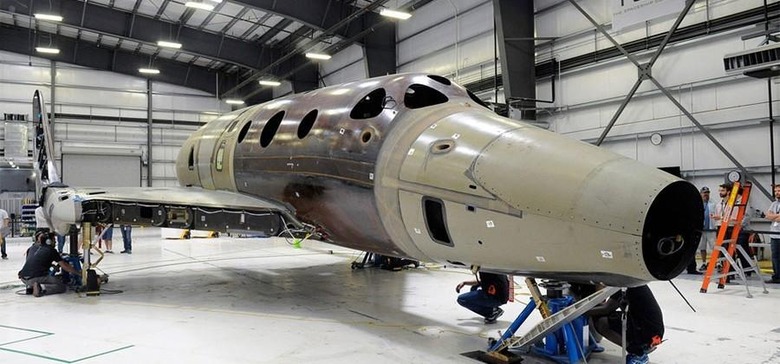 It's been almost a year ago now since tragedy struck Virgin Galactic. During an engine test, the Virgin Galactic SpaceShip Two aircraft crashed killing one pilot and leaving the other hospitalized. Company founder Richard Branson now says that the company is back on track and the image you see here is the new SpaceShip Two nearing completion.
After tragedy destroyed the first SpaceShip Two, the company continued to build the new spacecraft. Branson says that the new ship should be ready to fly by February 2016. After the new spacecraft is finished and debuted to the public, it will begin flight tests.
The first craft broke apart shortly after it began flying under its own power. The pilot was able to parachute to safety but the co-pilot was killed in the crash. The accident happened after the fourth powered test flight of the vehicle.
The cause of the first accident was ruled by the NTSB to have been the early unlocking of the spacecrafts feathering feature by co-pilot Mike Alsbury. The NTSB also said Scaled Composites didn't do enough to warn that unlocking that feature too early was dangerous. The original aircraft was built by Scaled Composites, the new space craft is being constructed in house at the Virgin facility. That handover was underway before the first SpaceShip Two tragedy.
SOURCE: Mashable