While there are plenty of ways to control Philips Hue connected lights – including by voice, smartphone app, or smartwatch – sometimes there's nothing quite so convenient as a regular light switch. Now, integrating the Zigbee bulbs into a more streamlined smart home is about to get easier, the announcement of a range of new Friends of Hue light switches at IFA 2018.
Friends of Hue is Philips' partner program, made up of companies using or integrating with the smart bulb technology. For IFA this year, the focus has been on how you control those bulbs, in addition to making that control stand out less in the typical home.
So, there's a new line-up of Friends of Hue smart switches. Illumra, Feller, and Busch-Jaeger are joining the party, with an array of different models that each fit into single- and multiple-gang wall frames. They also fit alongside existing switches from the same companies, allowing for a mixed control panel.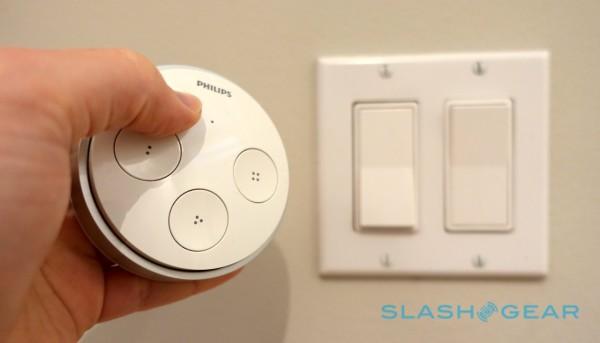 What stands out is how potentially straightforward installation can be. Like Philips' own Hue Tap switch, launched back in 2014, the new third-party switches are based on EnOcean's battery-free wireless chipset. That means the force of actually pressing the buttons themselves is what powers the Zigbee signal to the Hue base station.
It works well, as the Hue Tap demonstrated, but Philips' circular switch – though supplied with a self-adhesive backing for wall-mounting – didn't exactly fit with the wall switch design in most homes. That's getting addressed this time around, and there'll be different color options and different styles to match whatever is typical in each market.
Meet Friends of Hue switches – convenient, available in a variety of designs, and powered by green technology. Thanks to our partners: Busch-Jaeger, Feller, Illumra, Niko and Vimar.Available later this year. pic.twitter.com/JMsBSmqzpA

— Meet hue (@tweethue) August 31, 2018
For the US, the big news is Illumra's involvement, since the other smart switch participants in Friends of Hue will all be offering European-style devices. Niko and Vimar, which previewed their switches earlier in the year, will have them on store shelves in October 2018. Busch-Jaeger, Illumra, and Feller will follow on "in the coming months," Philips says.
At the same time, there's also been a new batch of Friends of Hue partners in the smart luminaires category. Kichler, Imoon MAKRIS, Koizumi, and John Lewis are getting onboard with connected light fixtures of their own, all integrated with the same Hue app. It also means you'll be able to control them by voice with smart speakers like Google Home and Amazon Echo.