New Penryn silicon from Intel promises incredible performance upgrade for PCs and Macs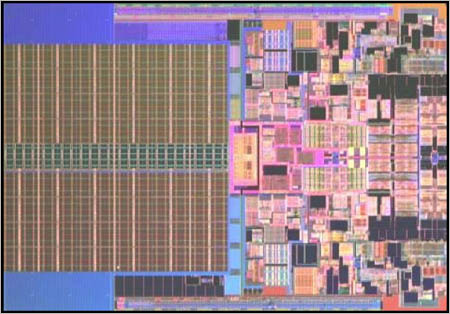 From the passing of one Mac to the promise of far, far faster machines running Intel's new Penryn chips at the end of this year.  Today the silicon specialists announced the upgrade of their manufacturing plants from 65-nanometer to 45-nanometer, with "high-k, metal gate" technology that has been called "the most important microprocessor developments in 40 years" by Gordon Moore (he of the law).
Metals with a high 'k' rating can store more electric charge, and the shift from traditional polysilicon gates to the new high-k metals should mean faster transistor response and in turn quicker processing.  The Penryn chips have already been manufactured and are currently going through qualification, with Intel testing them on a variety of Windows and – it's a fair bet – OS X platforms.
Lower power than today's Core 2 Duo processors, with bigger caches and better power management, they should also be relatively backward compatible with existing motherboards; Intel warns that there may be some electrical tweaking necessary with third-party 'boards, but Intel's own should have no problems.
Expect a 35-watt dual-core chipset for notebooks, dual and quad-core CPUs for desktop computers, and then even faster dual and quad-core CPUs for servers toward the end of the year.
Intel announces radical new chip design [MacLife]