New OWC Drive Dock connects bare drives over USB 3.1 Gen 1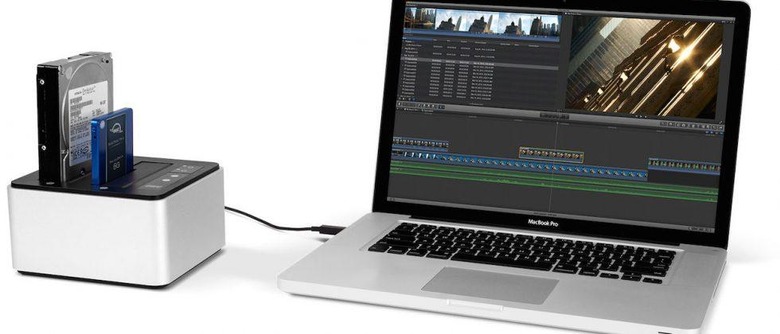 Hard drive and accessories maker OWC has announced an updated version of its Drive Dock, a docking station that allows users to connect up to two bare drives to their Mac or Windows PC. The new model takes advantage of USB 3.1 Gen 1 connectivity, allowing read speeds up to 434 MB/s and write speeds up to 406 MB/s.
While many computer users these days rely on portable drives and flash storage for on-the-go needs, bare drives — that is, those designed to be installed inside a computer — essentially become non-functional when removed. But the Drive Dock allows those drives to be plugged in and used without needing to put them inside a PC, so users can still access any data stored on them or use them for backup needs.
The new Drive Dock features two bays, each accepting a 2.5 or 3.5-inch hard drive. Both drives can be accessed at once when the dock is connected to a computer, so files can be copied or moved between the two bays, or one can remain in use while the other is swapped.
With the transfer speeds offered by USB 3.1 Gen 1, the device can be incredibly useful to professionals that need a lot of storage space, such as photographers, videographer, or music producers. Extra bare drives can be used when editing content, or for copying audio/video that was captured on location.
Each drive bay has its own power switch and LED indicator light, making it clear when a drive is connected and in use, and an internal auto-switching power supply means it can easily be used around the globe during travel. The new Drive Dock is available now from authorized OWC resellers for $90, while a model with both Thunderbolt 2 and USB 3.1 Gen 1 connectivity is priced at $248.