OWC Drive Dock lets you swap bare SATA drives on the fly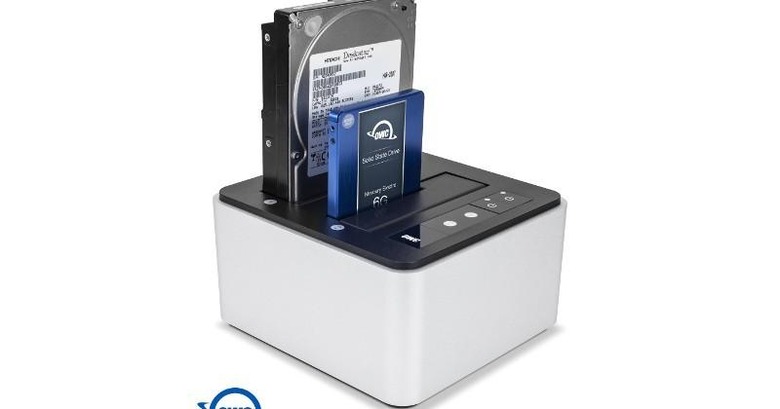 These days, there's almost an external data storage solution for everyone and every need under the sun, from microSD cards for mobile, to USB flash drives, to bulkier NAS drives. That said, there's always room for more somewhere in between those spaces. If you need something more than what a flash drive can offer but don't want to be tied down to a hulking NAS, then Other World Computing's new dual drive bay Drive Dock might be more up your alley, promising the best of both worlds at a fraction of the price.
Buying bare SATA drives is, more often than not, cheaper than buying an enclosed drive of a similar capacity. However, if your desktop drive bays are already full or if you only have a laptop, you will need a way to access those drives. You could slap them inside NAS drives, but those are far more complicated and are computers in their own right. If you simply need to expand your data storage, then a drive dock might be best for your use case.
The new OWC Drive Dock offers exactly that, allowing users to plug in 2.5 or 3.5 inch SATA drives at a moment's notice. It has the simplicity of use of a USB flash drive but with all the storage space and speed of a full blown hard drive. You can even actually just eject a hard drive and swap in a new one, no need to restart anything. Each bay has its own independent power switch and the Drive Dock itself comes with an internal power supply so you won't need to have an external power brick.
The Drive Dock has two drive bays, both of which can accommodate either a 2.5 or a 3.5 inch SATA drive. For connections, it has two Thunderbolt 2 ports, which can deliver read and write speeds of 522 MB/s and 477 MB/s respectively. There's also a USB 3.0 Gen 1 port that offers a slightly slower 427 MB/s and 347 MB/s speed, read and write respectively, but more compatibility with computers and devices. The Thunderbolt 2 connection allows a daisy-chain setup with other Thunderbolt devices, like other Drive Docks.
All that you can get for only $247.99. OWC offers same-day shipping of the OWC Drive Dock, which also includes a one-meter Thunderbolt cable and 0.6-meter USB cable in the package.