New MacBook Pro teardown reveals Core i5, modified chipsets, more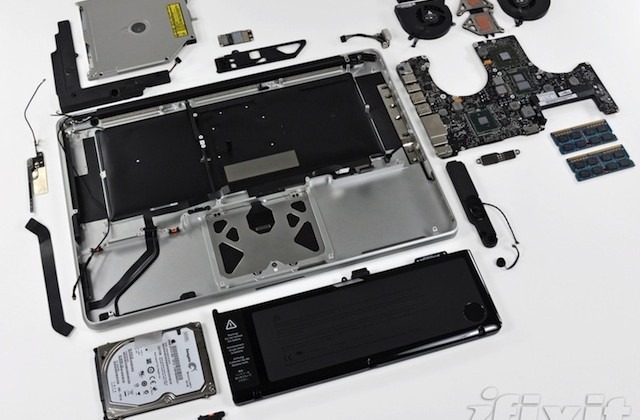 Like any new Apple product, the MacBook Pro has to go through the rite of passage that is an iFixit teardown.  The company have unleashed their usual screwdrivers, spudgers and tickling sticks and whipped open the 15-inch notebook's unibody aluminum case to reveal – in this particular model – the Intel Core i5 processor lurking inside.  While the headline changes are the CPU and GPU, iFixit found a few more modifications that are less obvious.
They include an extra wireless antenna fixed to the optical drive opening, so as to hopefully boost range despite the metal chassis, together with separate speaker/subwoofer enclosures.  Apple have also modified the standard Intel HM55 Express chipset – presumably to work with their AGS automatic graphics switching system – and it doesn't get its own heat sink, either.
There's also a bigger battery than on the last-gen models, up from 73 Wh to 77.5 Wh, though that alone isn't sufficient to add in the extra 2hrs of battery life Apple claim you'll see; that's more likely a side-effect of AGS and other power management systems.  Check back later on today when we'll have the full SlashGear review of the Core i7 15-inch MacBook Pro for you.