New MacBook Pro: 5 things you need to know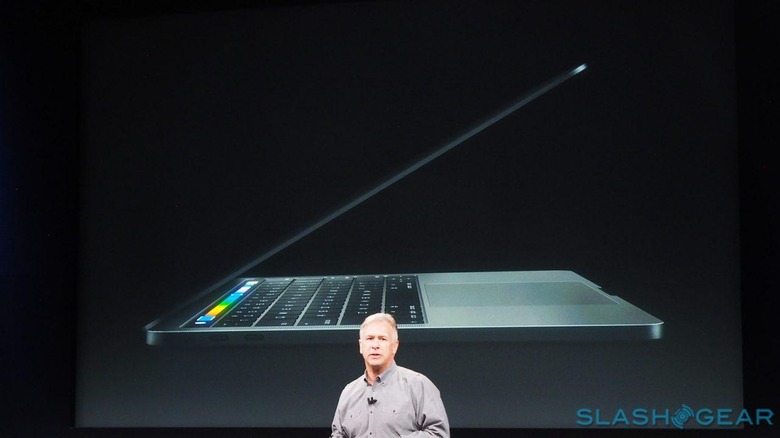 Just as the fates foretold, Apple has revealed the new MacBook Pro at its event in Cupertino today. It turns out that most of the rumors we heard prior to release are true. The new MacBooks will feature the oft-rumored Touch Bar that serves as a touch-enabled replacement for traditional function keys, but there's more changing with this new iteration. With that in mind, here are five things to know about the new MacBook Pro.
1. It comes with a new Force Touch trackpad
The Force Touch trackpad is making a return with these new releases, present on both the 13-inch and 15-inch varieties. Force Touch, as many of you will now, offers extra functionality beyond the Apple trackpads of the past, but that's not exactly what's noteworthy about these new components. The trackpads on the new MacBook Pros will be twice as large as previous trackpads, giving users a lot more real estate to work with.
2. Second-generation Butterfly keyboard
Apple's Butterfly keyboard mechanism from the Retina MacBook is featured in the new MacBook Pro as well. Meant to give stability and precision regardless of where your keystrokes land, the Butterfly mechanism allows Apple to make keyboards that take up less vertical space at the same time. While this will be familiar to anyone who has used a Retina MacBook, Apple is implementing the second-generation of the Butterfly mechanism in these new MacBook Pros.
3. The Touch Bar does indeed exist
Obviously, the main talking of the new keyboard will be the Touch Bar rather than the Butterfly mechanism. The new Touch Bar replaces the traditional row of function keys, and even comes with a dedicated key for Siri. You'll be able to use the Touch Bar to bring up things like predictive text, emoji, a function key layout, and media controls.
The new Touch Bar is multi-touch enabled, too. On top of that, it's outfitted with a Retina display and will react to gestures and taps. It's an interesting feature to be sure, and expect a lot of Apple's demonstrations to center around the functionality of this new Touch Bar.
4. TouchID with support for ApplePay
Apple has also decided to include TouchID in this MacBook release as well. Both MacBook Pro sizes will be outfitted with TouchID, and thanks to the built-in Apple T1 chip with Secure Enclave, it'll support ApplePay purchases. Many of the rumors before launch suggested we'd see TouchID on the MacBook Pro, so fans of the feature on iPhone won't be disappointed to see it confirmed here.
5. Internal hardware on 15-inch models
Apple also took some time to discuss the hardware in the 15-inch MacBook Pro. This new notebook will come packing a sixth generation quad-core Core i7 CPU working in tandem with a Radeon Pro GPU. That Radeon Pro GPU can come with up to 4GB of VRAM, while you'll also be able to outfit your MacBook Pro with up to 2TB of SSD storage. In short, the 15-inch MacBook Pro will be quite the computer, at least in higher-end configurations.
That's just the tip of the iceberg when it comes to details from Apple's MacBook event. We're live at the event, so keep it here for more. To catch up on what you may have missed, check out our Apple Hub for all of the news from today's happenings.