New MacBook Pro 13 first look: Entry-level Touch Bar envy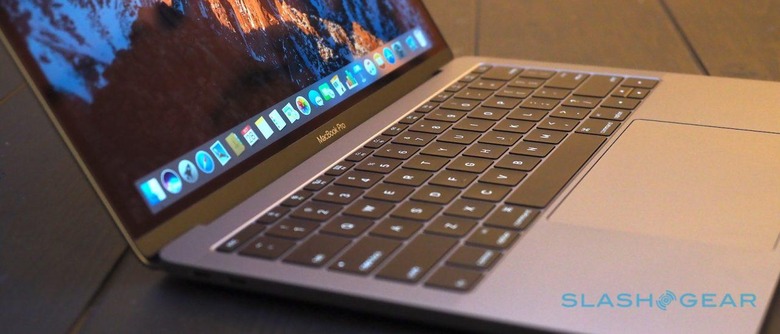 After a long – some might say interminable – wait, Apple's new MacBook Pro is here, and it's proving to be controversial. Unveiled this week is the Cupertino firm's vision of how touch and notebooks can co-exist, and it's a very different interpretation compared to the 2-in-1's and convertibles we've seen in Windows land. Not all the new MacBook Pro models are created equal, however, and it's the new, $1,499 entry-level model which has landed first on the SlashGear test bench.
Unfortunately, that means I can't tell you about the experience of living – albeit even just briefly – with the Touch Bar, because that's one of the missing features on the entry-level MacBook Pro. Instead, you get a regular strip of function keys, sharing real-estate with the familiar shortcuts for volume, brightness, and media control. It's not the only difference between it and its more expensive siblings, either.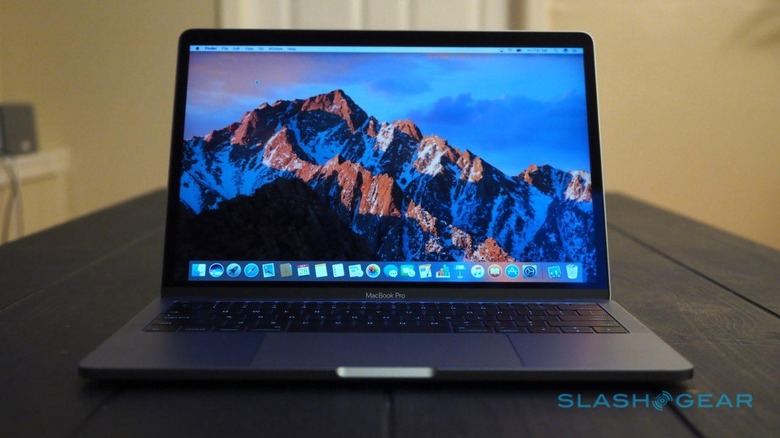 The extra $300 you spend on the Touch Bar-equipped 13-inch MacBook Pro doesn't just get you the slender touchscreen strip. It also doubles the number of Thunderbolt 3 ports you have, not to mention upgrading the processor from a 2.0 GHz dual-core Core i5 to a 2.9 GHz version. The Intel graphics take a small step up, too, from Iris 540 to Iris 550, and not only does the more expensive notebook have Touch ID, but a third microphone rather than the two on the entry-level model.
In fact, assuming you're enamored of the Touch Bar, there's only one slightly unexpected benefit of going for the cheapest MacBook Pro, and that's the battery. Even though Apple rates both notebooks the same for typical runtime – up to 10 hours of wireless web browsing or iTunes movie playback, or up to 30 days of standby time – the $1,499 version actually has a slightly larger li-poly pack inside. Admittedly, it's a fairly small difference: 54.5 watt-hours versus 49.2 watt-hours.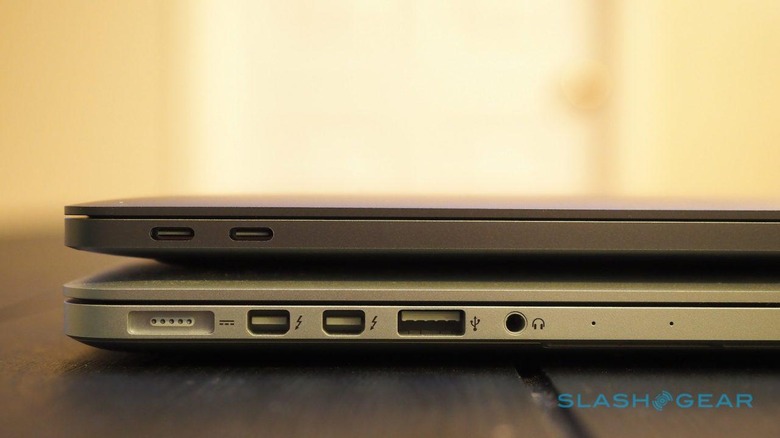 Given what little time I've had to actually use the new MacBook Pro, I can't tell you how long the battery holds up in regular use yet. That'll have to wait for the eventual review. What I have done, though, is charge it up with the included power adapter and USB-C cable.
I suspect the pair of Thunderbolt 3 ports on this particular MacBook Pro may prove more of a hindrance than just forcing users to add a dongle or three to their laptop bag. On the more expensive versions, the absence of MagSafe 2 feels justified by the quartet of Thunderbolt 3, any of which can be used to charge the notebook up. After all, you still have three remaining ports to play with.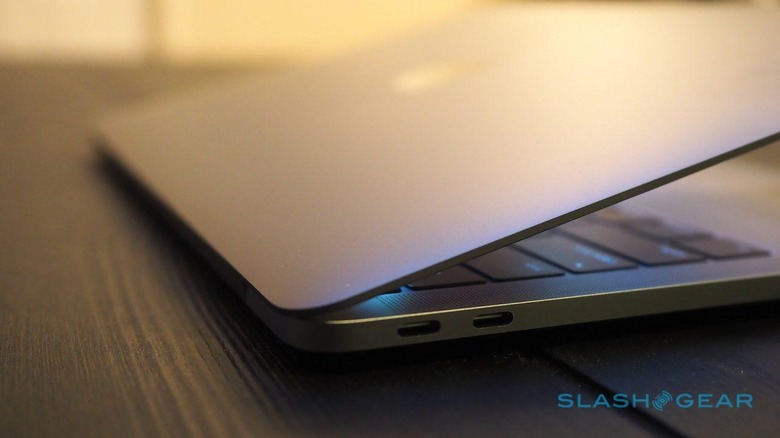 On the entry-level 13-inch MacBook Pro, however, plug in the power supply and all of a sudden you're down to a single spare port for everything else. Now, Thunderbolt 3 is a mighty capable connection, at least in theory: after all, each supports charging, DisplayPort, up to 40 Gbps of Thunderbolt data, and up to 10 Gbps of USB 3.1 data. However the number of actual peripherals that can take advantage of that are fairly limited.
What's more likely is that you'll be doing a fair among of plugging and unplugging of single-purpose dongles, and having lived with a 12-inch MacBook for the past couple of years, I know how frustrating that can be at times. Even with a fairly compact USB-C hub – I like Huawei's – it's a chore to have all that dangling off the side of your notebook, particularly if you're trying to use it on your lap.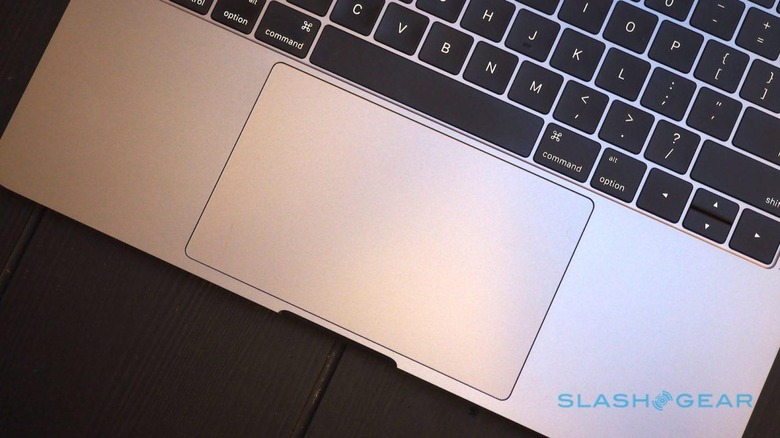 If you're viewing the $1,499 13-inch MacBook Pro as a 13-inch MacBook Air alternative, that limitation becomes even more noticeable. Yes, the older Air might be a little bigger than its new cousin, but it uses that space to fit in a MagSafe 2, two USB 3, a Thunderbolt 2, and an SDXC card reader. None of them are as individually flexible as a Thunderbolt 3, true, but I suspect they'll be more immediately-usable.
In the process you miss out on the performance improvements. The sixth-gen Core i5 is not to be sniffed at – in this case the i5-6360U – with a solid 8GB of memory (albeit slower 1,866 MHz LPDDR3 than the $1,799 model's 2,133 MHz) and 256GB of storage. Honestly, benchmarks only give a fraction of the story, but in Geekbench 3 it came in at 3,128 for the single-core test and 7,099 in the multi-core test.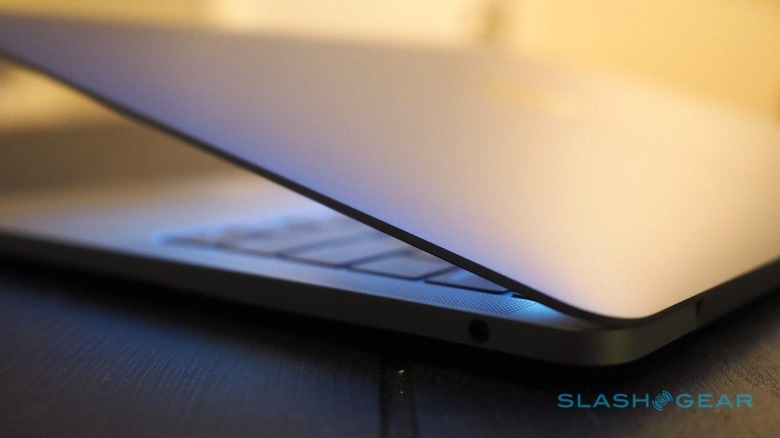 Those doing heavy-duty video editing – or wanting to play games, for that matter – will, as before, likely want to look to the 15-inch MacBook Pro instead. That gets AMD discrete graphics as standard after all.
Apple isn't referring to the "Butterfly" keyboard on the new MacBook Pro as its second-generation, at least not officially, though it probably could. It's based on the same premise as the 'board in the 12-inch MacBook, a single flexing assembly which makes for less keycap wobble, but modified with greater travel and a different dome mechanism underneath. As on the 12-inch, the keys themselves are larger with less space in-between.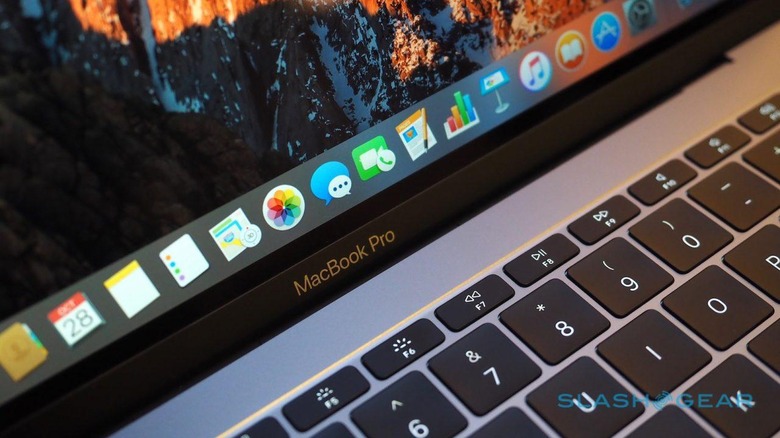 I'm a fan of the original "Butterfly" keyboard, personally, though I know many others aren't. Happily, the new MacBook Pro strikes a balance somewhere in-between old keyboard and new. You get the increased stability of each individual key, but there's a more definite depression when your finger strikes. Even if you disliked the MacBook's keyboard, it's worth keeping an open-mind for this new iteration.
Underneath there's a significantly larger trackpad than before, and it's another carry-over from the MacBook. Courtesy of Force Touch you have the sensation of movement without a physically hinged 'pad, along with the ability to press "deeper" into the click to summon context-relevant extras such as dictionary definitions or address look-ups. Even though I have relatively narrow wrists, I was a little concerned that the wider area on the new MacBook Pro could lead to issues with accidental taps, but Apple's updated palm-rejection appears to be doing the trick.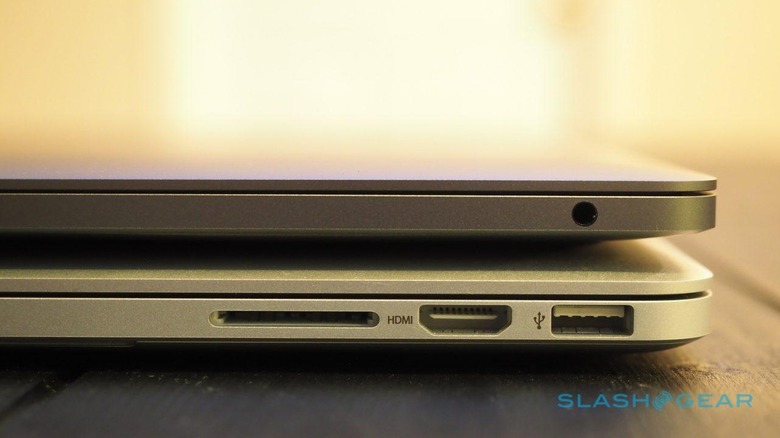 There's no denying that this is a less exciting MacBook Pro than the more expensive models. Indeed, with no Touch Bar and half the ports, there's far more of a sense that Apple built this particular notebook to a budget. Yes, the company can bill its new line-up as starting from $1,499, but it's really from the $1,799 point upward when it begins to sparkle.
Personally, the reason I'd buy this over the 13-inch MacBook Air is the display. Once you've spent some time in front of a wide color gamut panel, it's hard to go back to a screen which doesn't have P3 support. Until now, that's meant an iMac Retina 5K, a 9.7-inch iPad Pro, or, most recently, the iPhone 7: if you've wanted P3 and a portable Mac, you've been out of luck.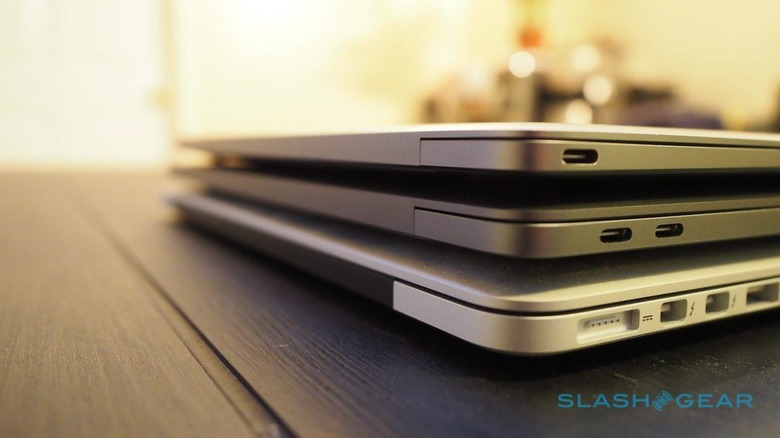 NOW READ: MacBook Pro Touch Bar hands-on
That all changes with the new MacBook Pro, and it's another astonishing display. Colors are richer and deeper – reds and greens particularly, without the unnatural hue and bleed of over-saturation – while contrast is much improved too. Side-by-side with the old 13-inch MacBook Pro, and the difference is night and day. I'm even okay with giving up the illuminated Apple logo on the lid for it (you get a shiny badge instead).
Still to come: battery life, how that double port situation holds up, everyday performance, and if Apple really has done audio magic with its "completely redesigned speakers. In short, I'll have more on the new 13-inch MacBook Pro – not to mention its siblings – in the coming weeks, though if you're already convinced it's shipping from today.