New Mac Pro first look: Be careful what you wish for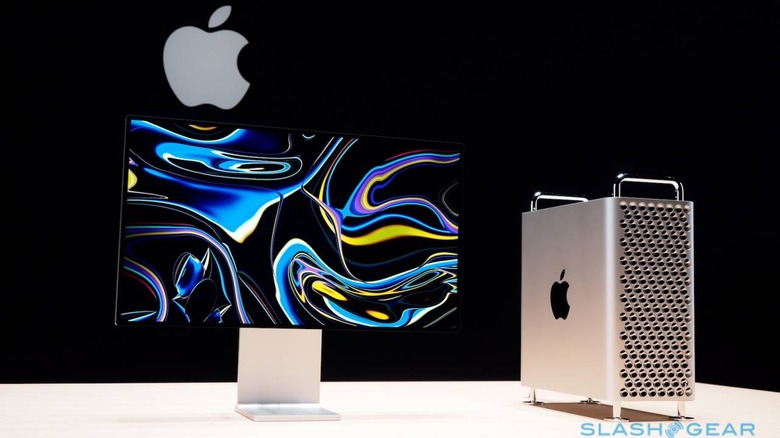 Familiar, and yet new: the new 2019 Mac Pro is about as big a departure, generation to generation, as Apple computers get, but somehow it still feels comfortably familiar. Perhaps it's how it nods back to the old "cheese grater" aesthetic in the days before the trash can, or a more nebulous sense that Apple is finally, again, listening to its most ambitious users.
Or maybe it's just that the new Mac Pro gives Apple a renewed opportunity to do what it does best: wrap up the most aggressive, cutting-edge hardware in some sleek design, and drape it with hyperbole. That's not to say 2019's Mac Pro is unimpressive, or indeed undeserving of that hype.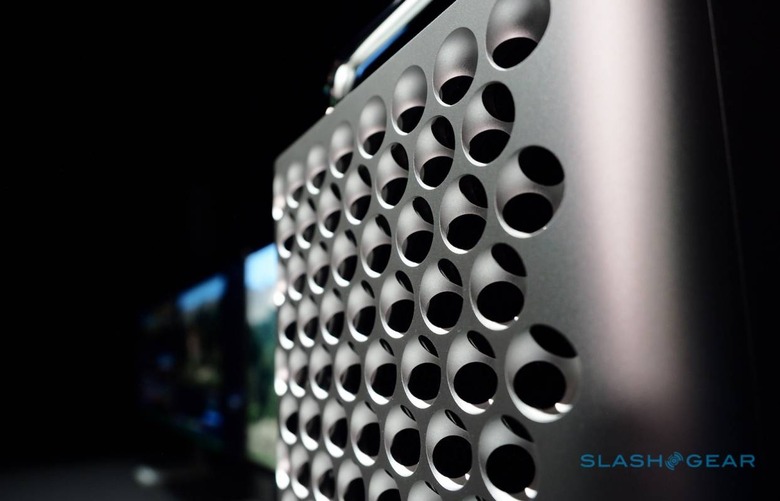 Photos are deceptive; they flatten out the fascia, to the Mac Pro's detriment. Up close, each hole is in fact a tiny cluster of circular apertures, as though soap bubbles have pressed up close, been cast in aluminum, and then burst in a mesmerizing sequence. Like the best designs, though, it's all for functional reasons.
The series of holes allows for more airflow. Behind the front mesh is an array of three oversized fans, to keep everything running cool. The slender metal feet can be replaced with convenient wheels, turning the Mac Pro into the tech equivalent of a ride-on suitcase. Its handles aren't just aesthetic, but integral to the stainless-steel frame for maximum strength.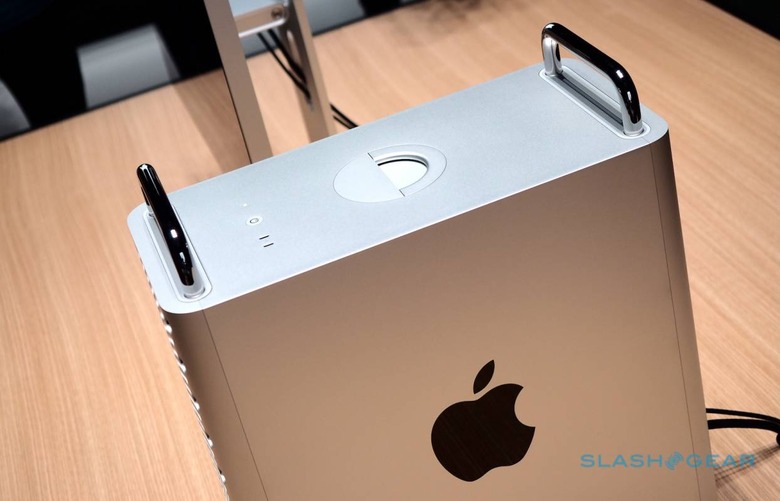 It's also eminently modular, with all the expansion potential that pro-users had found absent in the previous Mac Pro. Eight PCI slots – four of which are full width, three single width, and one taken up with an I/O module – are a good start, but it's how Apple utilizes them that's notable. The Apple MPX Module is a new way of looking at expansible graphics, while the Apple Afterburner – focused solely on video acceleration – is another example of the company taking full advantage of its tight integration of hardware and software.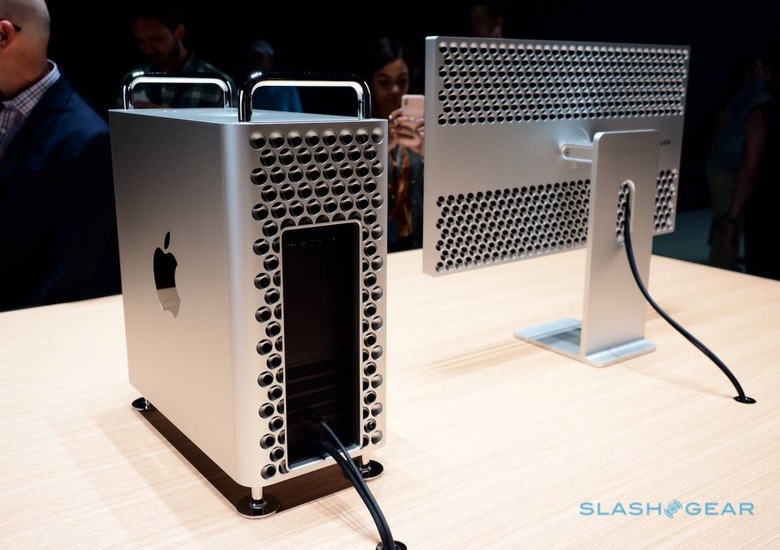 Is it worth north of $5,999? That's a question we'll have to wait for the answer to. Certainly, everyone Apple brought along to its WWDC showcase was very, very enthusiastic about the new Mac Pro. Then again, that's hardly too surprising.
What it'll all hinge on is pricing. The $5,999 Mac Pro is just the entry-level machine: an 8-core 3.5 GHz Intel Xeon W processor, a single Radeon Pro 580X graphics card, and 32GB of memory. Hardly likely to be slow, no, but if you're looking to chase Apple's heady vision of a multi-8K studio with dual graphics and more, you can figure on spending a whole lot more.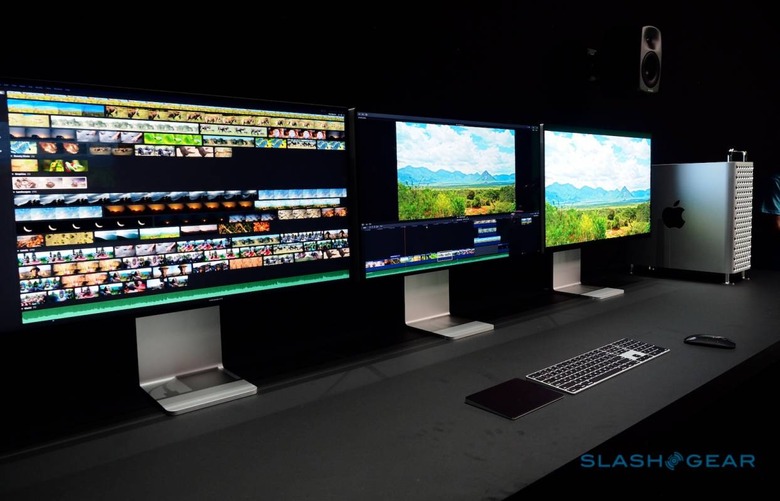 Maxed out, you can have up to a 28-core Intel Xeon W processor, up to 1.5TB of memory, and dual AMD Radeon Pro Vega II Duo GPUs. There's a hefty 1.4 kilowatt power supply to keep all that running: a MPX Module can suck down up to 500W on its own, after all. Storage, if you're not happy with Thunderbolt 3 drives, comes courtesy of up to 4TB of SSD.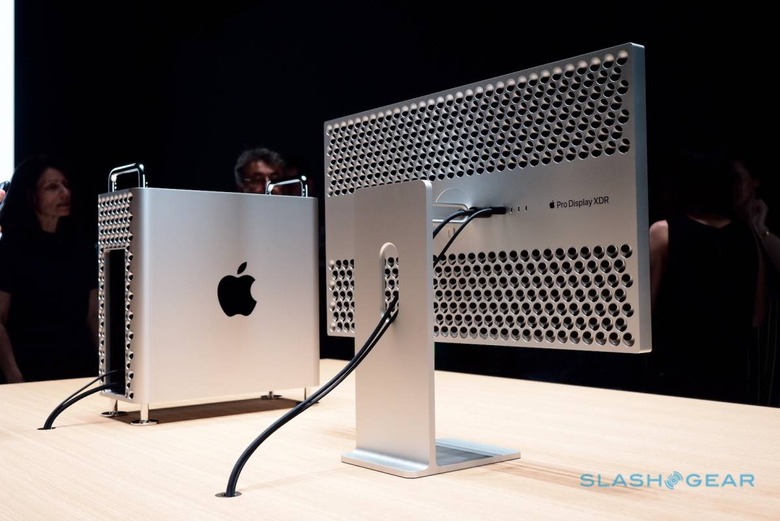 That's all going to be expensive. How expensive, exactly, we don't know. Final pricing will come closer to the Mac Pro's launch this fall, but let's face it, $10k+ isn't going to be outlandish once you start getting enthusiastic on the options list.
This may, then, be a point of reckoning for those who have been demanding maximum power and expansion from an Apple computer, but don't have the deep pockets to back those appetites up. The Pro Display XDR is the same story: 32-inches of Retina 6K panel, which looks mesmerizingly rich and engaging, and which snags $4,999 from your wallet in the process. Want the sculptural stand? That'll cost you another $999.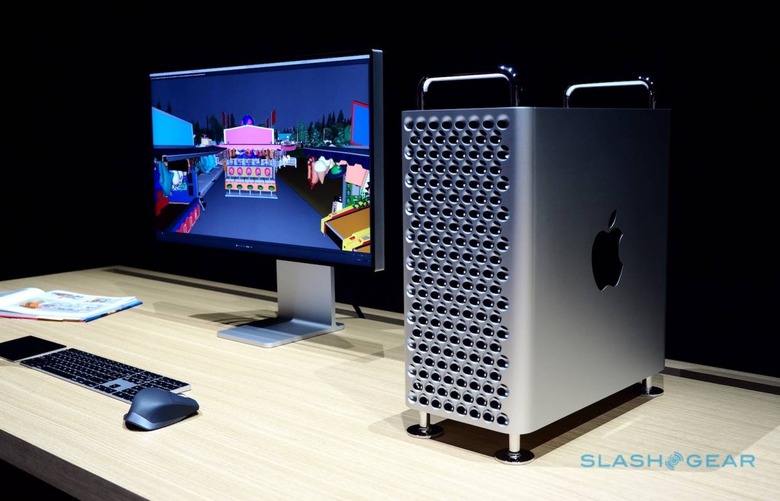 We're talking serious money, then, and that's going to sort the ambitious amateurs from the real professionals. The 2019 Mac Pro is just what macOS fans were asking Apple to make. Now, they just have to figure out how to afford it.