This is the new Mac Pro: Professionally modular, thermally sound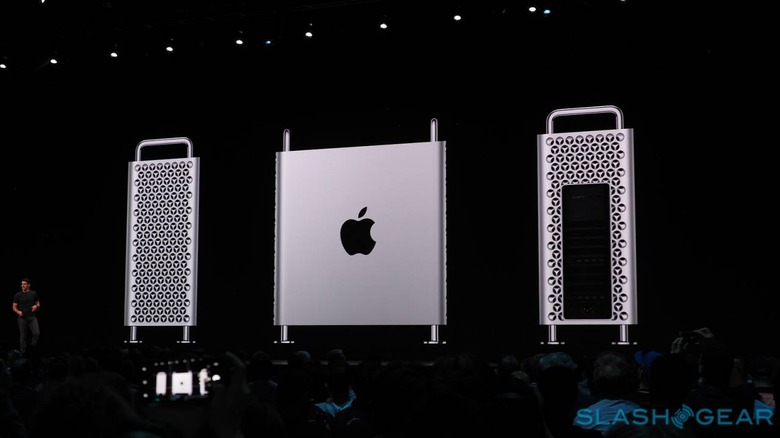 The Mac Pro is back, and it looks like a completely new piece of machinery. This device is both about simple, stark refinement on its outside and high-powered MacOS-based processing on its inside. It's sort of like the cheese grater aesthetic never went away – and it's back now with far more intense elements – and it's all modular! [UPDATE: And by that I mean it's largely modular, not ALL modular.]
At long last, Apple's come to terms (once again) with the fact that it has a userbase that cares more about top-notch processing work than they do about the strange new shapes in which Apple's able to shape computers. This machine will be able to be stacked with power, absolutely stacked.
Users will find Intel Xeon processors inside this newest Mac Pro 2019, with up to 28 cores and a cool 300W of power. And of course that'll means Apple's included some top-end cooling options inside, and all the airflow you could ever ask for.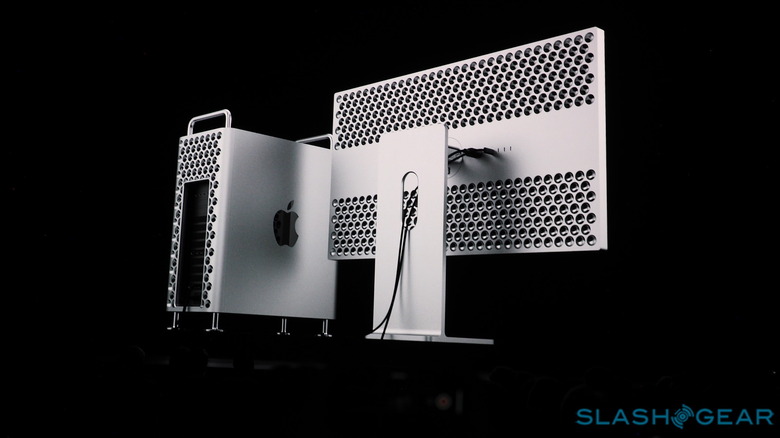 System memory maxes out at 1.5TB (for now), and we've got a bevy of slots. Inside you'll find an available 3x single-wide PCI-express lots, and 4x double-wide. You'll find 2933MHz ECC, 6 memory channels, and 12 DIMM slots.
Options for cards from Apple right out the box are a whole lot of AMD Radeon Vega cards – which you'll find in the gallery here. Also in the mix is what Apple calls the "world's most powerful graphics card", the Infinity Fabric Link.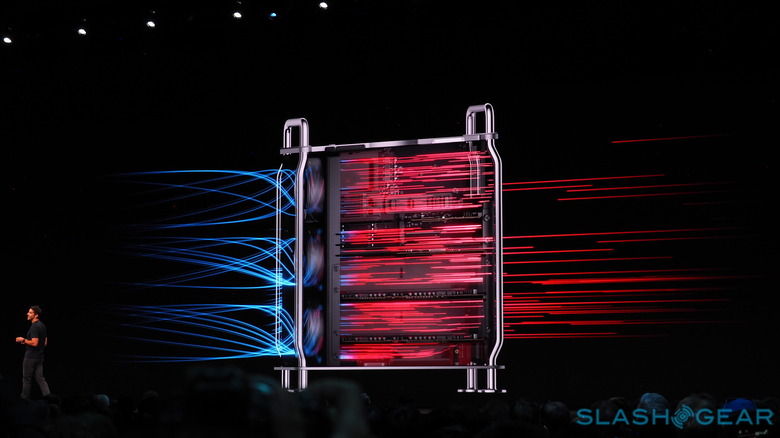 On the back of this machine you'll find 2x USB-C (Thunderbolt-capable) and 2x USB-A ports, 2x 10Gb ethernet ports, a power port, and a whole lot of slots for modular popping-in of cards. On the top is a pair of handles for easy carrying. Also up top is a power button and two USB-C ports.
And there's a standard 3.5mm headphone jack. Because obviously you need a 3.5mm headphone jack, because you are a human with headphones. Apple called it a 3.5mm audio "minijack" onstage at WWDC 2019.
This device will be available starting at a whopping $5999 – take a peek at the gallery above to see what that means for internal components. We'll be updating this post with different options for the machine soon, as well.