New iPhone Mini Docking Connector Photographed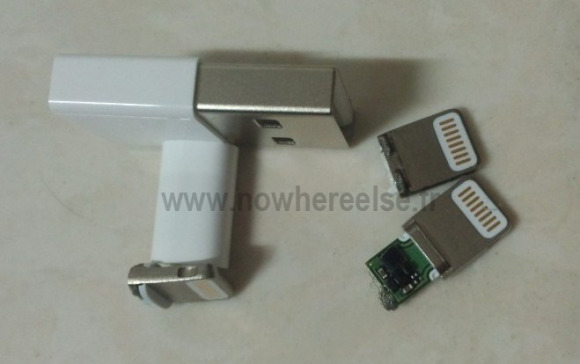 It appears that a group of intrepid undercover photo-takers in France have taken some snaps of the iPhone 5's docking connector in all of its 8-pin glory. This little pin is set to replace the 30-pin connector we're used to on the iPad, iPhone, and all manner of iPods as well. It's over at Nowhere Else that these images originate, they adding another piece to the ever-clearer puzzle of parts that make up the next iPhone here just a possible set of weeks before its launch.
What we're seeing here is that this lovely little connector may be two-sided, that meaning that it's got pins not just on the one side as previous connectors have had. These bits (or the two on the right, at least) show the part that pushes in to the iPhone (aka the male end of the connection.) It's also been tipped that there's going to be at least one official converter plug so that legacy accessories may be used once the new iPhone is released.
It's also been tipped that the new iPhone will be just one of the whole line of Apple mobile devices to be working with a new generation of ports. With this new port comes more room inside the device and, we must assume, more room for an LTE radio. Of course there's also going to be more room for battery space as well – more time with no charging for us!
Have a peek at the iPhone 5 timeline below to see all the updates from the past week or so on tips, leaks, and all manner of rumors leading up to the final release. We're currently expecting the next iPhone to be announced on the 12th of September – but that's also only a rumor, so sit tight! Also feel free to hit up our iPhone 5 portal to see everything that's run up on us over the last few months!
[via Engadget]