New iPhone dock connector adapter tipped

Apple will almost certainly be pushing not just a new smaller dock connector with its next-generation iPhone later this year, it seems, it'll be bringing on a dock adapter as well. This information comes from a source close to the situation speaking with iMore on how the smaller dock connector will facilitate 4G LTE gear as well as a slightly larger battery to make it all stay up to their standards for days of life. This new dock connector would dismiss 5+ years of 30-pin dock connector on the iPhone and all of the accessories that go with it – but 3rd party device makers can rest easy, it appears, as a converter is on the way as well.
Just as each new port on a Mac laptop has a converter Apple is more than willing to provide you with when you want to be backwards-compatible, so too will the new iPhone, aka the iPhone 5, have a converter as well. We're expecting a smaller piece of tech than the wire-inclusive in-betweens the MacBook line has for their DVI to Mini DisplayPort units, for example, opting instead for a single block. You can see a block Apple's already made for the conversion from MagSafe to MagSafe 2 in Apple's online store for just $9.99 USD.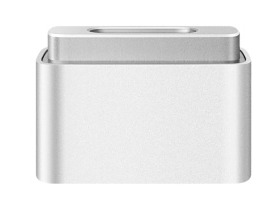 This is an extremely reasonable price and one we sort of hope Apple is considering for the next generation Apple phone. Other converters can range between $30 and $100+ depending on what you want to do with your Apple product, so be prepared for that possibility as well.
Meanwhile have a peek at the timeline below to see other iPhone tips and rumors for the "iPhone 5" or whatever you want to call it – coming soon!