New iPad revealed with Apple Pencil in tow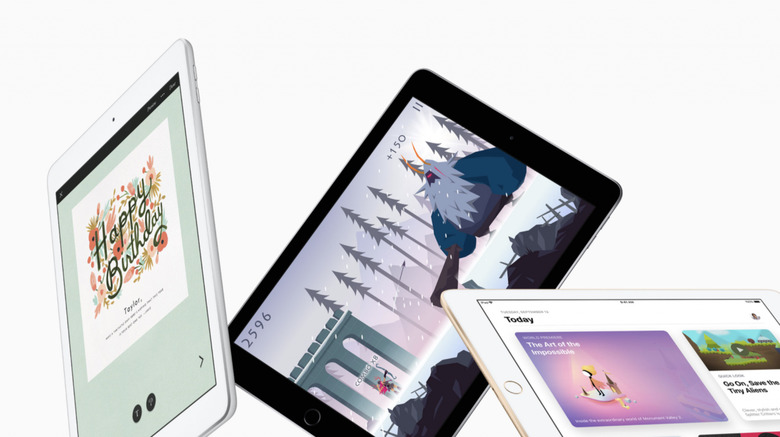 Today Apple introduced a new iPad for students in schools across the United States. While this iPad will be available for all users, even those that aren't students, the event at which this device was shown was centered on education. It's got the basics – even though Apple's suggesting it's more than just that.
This new iPad was called "our most affordable iPad," by Apple's Greg Joswiak. "[This new iPad] has support for our most creative tool." That's the Apple Pencil, if it weren't entirely obvious. This new iPad supports the same tilt and pressure sense abilities given to the iPad Pro with the Apple Pencil.
The basic situation here is as follows: The new iPad looks a lot like the old iPad. It'll be less expensive because Apple's made the product long enough to get a discount on the parts. The Apple Pencil works with this iPad now, so it's better than it was before, but now it's far more awesome because it's both a "less expensive" package and it's more versatile than previous models.
This new product has new versions of several apps – which you'll be able to get new updates to if you already have an iPad, of course. Those include new versions of Pages, Numbers, and Keynote – all of which now support Apple Pencil in new and interesting ways.
This new iPad has a 10-hour battery and an 8-megapixel camera on its back. The new iPad has an A10 Fusion chip, GPS, compass, and TouchID. There's also an HD FaceTime camera up front, and – of course – Apple Pencil support right out the box.
On the iPad experience in a learning environment, Cook said: "Today, we're going to take those experiences even further." Apple's Greg Joswiak came to the stage to note how the iPad has 200,000 education reference apps. That's a big jump from the 20,000 the company had the last time they held this event. "This goes way beyond the basics and way beyond browser-based apps," said Joswiak.
So while this isn't a direct shot at the Chromebook – it kinda, sorta is. Have a peek at the timeline below for more information. Stick around for the rest of the story as Apple's event continues and the release unfolds.