New iPad Retina Display looking more likely from iBooks 2 icons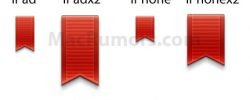 Further evidence of a next-gen iPad with a 2048 x 1536 "Retina Display" has been unearthed, this time from iconography and graphics included in Apple's new iBooks 2 app released yesterday. A new bookmark icon in the refreshed app – labeled "iPadx2" – was spotted after some judicious digging by MacRumors and devs Steve Troughton-Smith and Grant Paul, indicating Apple is preparing to double up on the existing resolution of the iPad for its imminent third-gen variant.
Apple has already been including "x2" extra-detailed icons for the iPhone 4 and 4S, catering to the smartphone's higher-resolution Retina Displays as opposed to the smaller graphics required for the older model handsets. Until now, though, a single iPad icon size has been included, but iBooks 2 apparently marks the beginning of a new, oversized version to suit more pixel-dense tablet panels.
The new icons were short-lived, Apple releasing a second, mildly-tweaked iteration of iBooks 2 to remove the fourth size. However, that wasn't quick enough to avoid images of it being saved, along with evidence of a more detailed, larger wood-effect background tile as well.
Although Apple's lips are, as ever, tightly sealed on the new iPad, that hasn't stopped the perpetual rumor machine from crunching through any tidbits it can find. Most recently, it's been suggested that Apple's new tablet will be the iPad 2S, in effect a more incremental upgrade with the new, extra-detailed display, a quadcore processor and LTE support. The true iPad 3, so the speculation goes, will follow on later, a more significant update all round.