New Horizons reveal Pluto's wildly varied landscape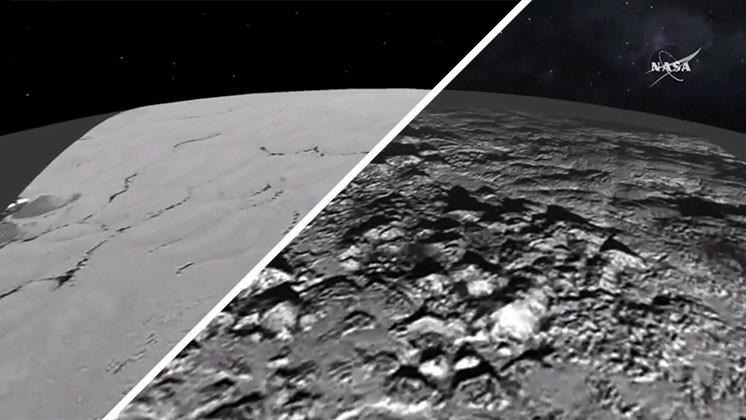 This morning the folks behind NASA's New Horizons mission revealed the heart of Pluto. What the New Horizons crew revealed today is a number of deep differences in areas on different sides of the planet. They've also gone over the escaping atmosphere surrounding Pluto. What we're able to see here is a set of two – at least two – very different sorts of landscape on the dwarf planet Pluto. Today's lesson is this – Pluto is not just one simple, flat piece of rock. It's not even just a lumpy rock – it's a whole lot more complicated than that.
Unbelievably, the New Horizons crew have only received a cool 1 to 2-percent of the data captured by the New Horizons craft during its 22-hour closest-flyby. Keeping that in mind, the following images and video should be seen as the first glimpses of a much more vast collection of images and data coming over the next few months.
Below you'll see two very distinct planes as captured by the New Horizons craft in its 22-hour flyby. Mountains are here – massive, gigantic mountains. Ice planes are here as well – smooth lumps, almost buttes of ice.
One piece of the newly expanded ground we're seeing here shows a section of Pluto near the Southern pole of Pluto. As Jeff Moore, New Horizons Co-Investigator, NASA Ames explained, this image is North and South as we'd expect to see it on a standard map.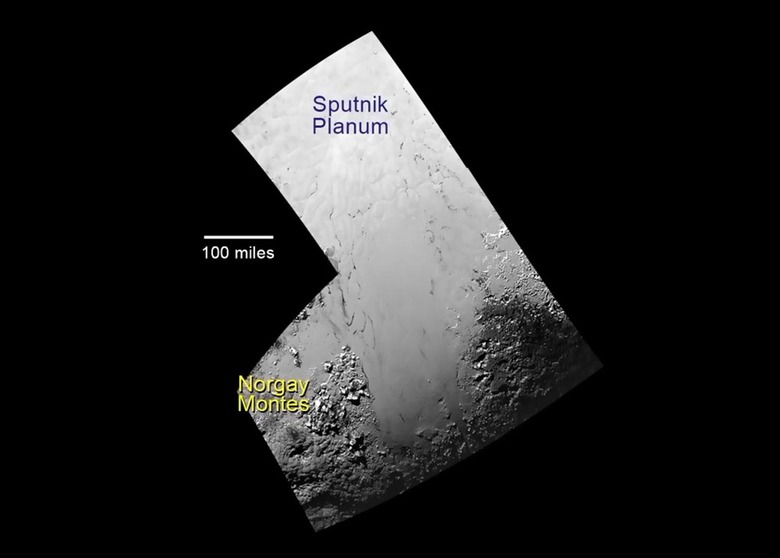 You'll see two areas marked with brand new names. First we'll be seeing the Norgay Montes area in images below, then an area within the Sputnik Planum region.
"This terrain is not easy to explain," said Moore, "the discovery of vast, craterless, very young plains on Pluto exceeds all pre-flyby expectations."
Again, this area goes by the name of "Sputnik Planum" (Sputnik Plain) after the Earth's first artificial satellite.
"This are could be a hundred million years old, but it could have geological processes still active today," said Moore. "All of this suggests that Pluto has had a long and complicated geological past,
"This is a vast, crater less plains that has a very interesting story to tell."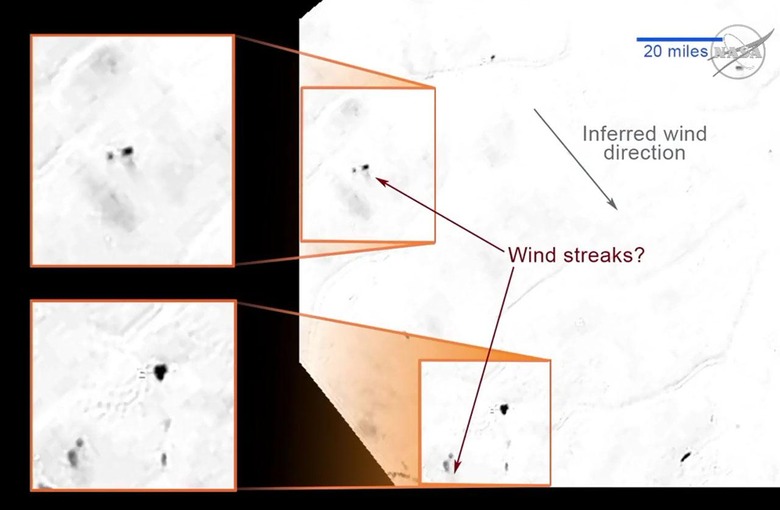 The next image you're seeing here shows a place where the crew believe they've found wind streaks. Winds would be traveling from a North-West to South-Eastly direction, if these images are indeed indicators of wind.
"With the flyby in the rearview mirror," said Jim Green, director of Planetary Science at NASA Headquarters in Washington, "a decade-long journey to Pluto is over –but, the science payoff is only beginning. Data from New Horizons will continue to fuel discovery for years to come."
See more in our ever-evolving best photos of Pluto so far feature article!