New Google Nexus One photos confirm Android 2.1 & T-Mobile support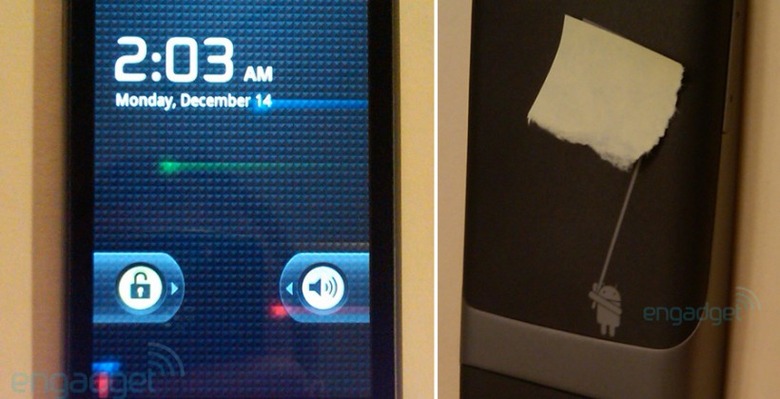 The tubes through which the internet flow were bursting with Google Nexus One speculation this weekend, with the prospect of an "official" Google Phone driving many Android geeks to madness.  A leaked photo over the weekend confirmed that the Nexus One appeared to be based on the same HTC device we knew as the HTC Dream, and now Engadget have come up with a few new images themselves.  The Nexus One in their shots is devoid of HTC logos and runs Android 2.1.
According to their source, the Google Nexus One has more homescreen panes on offer and new 3D elements to the app tray, while an overnight firmware update now adds the handset name to the device's status page.  Google have also added a webOS-style card preview of open applications, rather than the current dumb app switcher, and both Google Maps Navigation and Google Goggles are preinstalled.
The supplied documentation, meanwhile, points to a questions page at google.com/phone/support, not currently active, while the photos show both T-Mobile as the carrier currently in use and WiFi as being active.  Apparently the tape on the back of the handset is covering a QR code.  Speculation is currently leaning toward this being a developers' device, in the same manner as the Google Dev Phone 1 and the Google Ion, offering Android coders higher-specification hardware to keep up with the latest range of devices using the platform.