Google Nexus One phone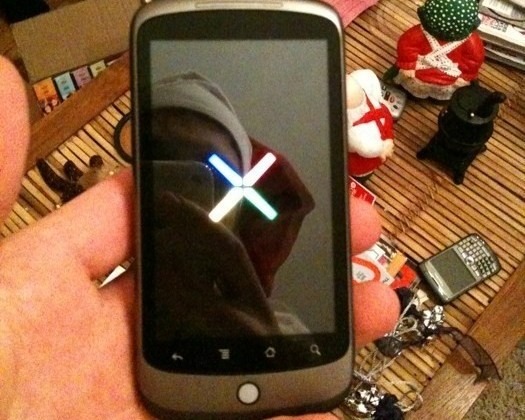 It's fascinating how news can spread so quickly even on a late Saturday afternoon. Earlier today, Google publicly confirmed on their blog that they've handed out a new Android 2.1 powered device to employees worldwide. These very phones now have a name – Google Nexus One phone.
Update: Another new in-the-wild photo, courtesy of Twitter user Cory O'Brien. He says "Google Phone = iPhone + a little extra screen and a scroll wheel. Great touch screen, and Android."
Update 2: More intrigue, as industry insider Eldar Murtazin – who we last heard predicting Foxconn as the supplier for the 4th-gen Apple iPhone – claims the Google Nexus One speculation is off the mark and that the incorrect rumors may initially have been driven by Apple.  Full details after the cut.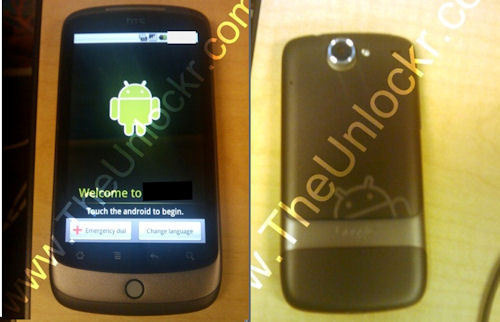 The Nexus One phone is unlocked and carrier free. It'll be sold online starting in early 2010 for an unknown price. Nexus One is purported to have a 3.5-inch super high-resolution OLED touchscreen, is thinner than the iPhone, lacking a physical keyboard, two mics and powered by Snapdragon processor.  According to Techcrunch, the second mic on the back helps Nexus One eliminate background noise, and it also has a "weirdly" large camera for a phone. Anyone not too crazy about touchscreen keyboard might want to try voice-to-text feature – which is suppose to dictate emails and notes by speaking directly into the phone.

The name Nexus One may seem odd but according to BoyGeniusReport, it looks legit. Not to mention WSJ is also reporting the same.
HTC is building the Nexus One phone with lots of input from Google and might be a modified version of the HTC Passion or the HD2.
Update 2 continued: According to Mobile-Review's Eldar Murtazin, Google Nexus One phone speculation is far off the mark.  Having spoken to a Google team member, he says "Google employees are testing some features of upcoming version of Android 2.1 on HTC Passion which was called Google Phone (=Android phone)" and that "Some rival company used misunderstanding to lauch rumour about Gphone and new business model from Google (which arent true)."  As for the identity of this "rival company", he goes on to suggest that it's actually Apple looking to derail future Motorola devices.  No word on who Murtazin's source is, however, so add this to the speculation pile.