Earlier today, Google announced and detailed a new redesign for Gmail. While we originally thought this redesign would solely focus on the web implementation of Gmail, it turns out that there are also some new features coming to mobile as well. In short: This redesign looks to be a massive one, with a lot of new features centered around security and ease-of-use. While all of them are important in one way or another, here are five features in particular worth knowing about.
1. Confidential mode
Perhaps the most exciting thing coming to Gmail, at least from a business perspective, is its new confidential mode. This will allow senders to set their emails to expire after a certain amount of time or revoke access to an email after it's been sent. Even better is the fact that senders will be able to use new tools that prevent recipients from forwarding, downloading, copying, or printing the emails they receive, which should go a long way toward preventing accidental leaks.
2. Native offline functionality
People who consider themselves Gmail wizards likely already use a Chrome extension that allows for offline functionality within Gmail, but with this redesign, Google is officially adding it. With offline mode, users will be able to read, archive, and reply to emails while they're offline, so losing a WiFi connection doesn't necessarily mean you can't have a look at your inbox. This offline functionality can extend back 90 days as well, giving you three months of emails to go through when you're without internet access.
3. Snooze
Those who receive a lot of emails know that sometimes you're too busy to reply, which means that important emails can slip through the cracks. Gmail's new Snooze feature is meant to prevent that, as it will allow you to hide and resurface an email at a later time. That way, if you see an important email come in but you don't have time to read its contents, you can snooze it and be reminded of it at a time when it'll have your full attention.
4. G Suite side panel
This is another feature that will appeal more to business users, but one that could have some use on the consumer side as well. Gmail will soon be sporting a new sidebar that allows for easy access to other G Suite apps, allowing you to add appointments to Google Calendar or create to-do lists with Tasks without having to switch between apps. You'll also be able to use this sidebar to access some third-party extensions, making it all the more useful.
5. Assistive unsubscribe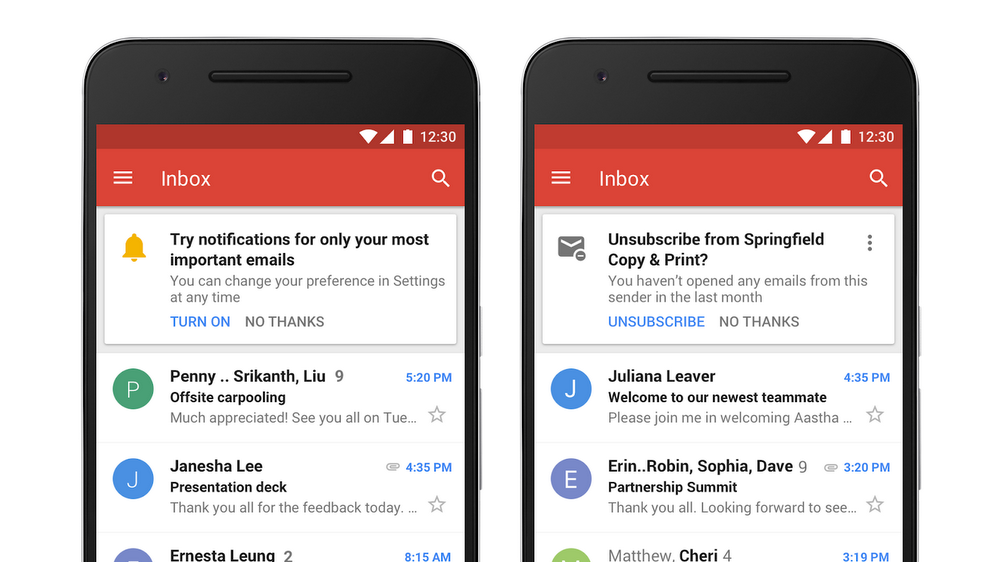 While other features might be geared toward security or workflow, this one simply wants to keep your inbox neat and tidy. Assistive unsubscribe will automatically track the various newsletters you receive and make unsubscribe suggestions for ones you never read. If you have an issue going through your inbox and unsubscribing from all of the stuff you signed up for but never actually read, this sounds like the perfect tool for you.
Wrap-Up
This just scratches the surface of everything that's new in the Gmail redesign, which you can read more about in our earlier write-up. While only certain components of the redesign are going live today for G Suite Early Adopters, we've also outlined how you can get the redesign today instead of waiting for its eventual consumer release. We'll keep an ear out for more information on when the redesign will go live for consumers, but for now, head down to the comments section and let us know what your favorite new feature is!