Gmail redesign is here and it's big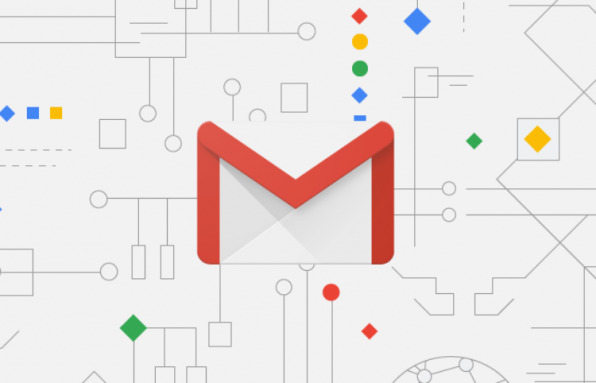 Just as the rumors (and Google itself at one point) foretold, Gmail for web is getting a major redesign today. While this redesign brings some Gmail features over from mobile, it does a lot more than just that. Not only that, but Gmail for mobile is also getting a few new features as well, so this redesign doesn't only concern itself with bringing the web version up to speed.
As we heard a few weeks ago, one of the big focuses of this redesign is security. Many of these features are launching as part of what Google calls "Gmail confidential mode." With confidential mode, you can set expiry dates for the emails you send, revoking access to sensitive information after a certain period of time.
You can also use Information Rights Management tools to prevent the recipient from copying, forwarding, downloading, or printing the messages you send. Obviously, those won't entirely prevent a determined person from copying the information in your emails, but it does add a barrier that prevents them from doing it easily. Beyond that, however, Google envisions these tools as a way to prevent information from accidentally being shared, so it isn't just concerned with stopping people from intentionally sharing critical details.
One interesting thing about these new security controls is that you can require recipients to authenticate their identity via text messages before gaining access to the emails you send, which means that even if a recipient's Gmail account becomes compromised, the information you've sent can still be kept safe. We'll also see bolder, more conspicuous security warnings pop up in emails that might pose a threat, leaving little question as to whether or not Google trusts them.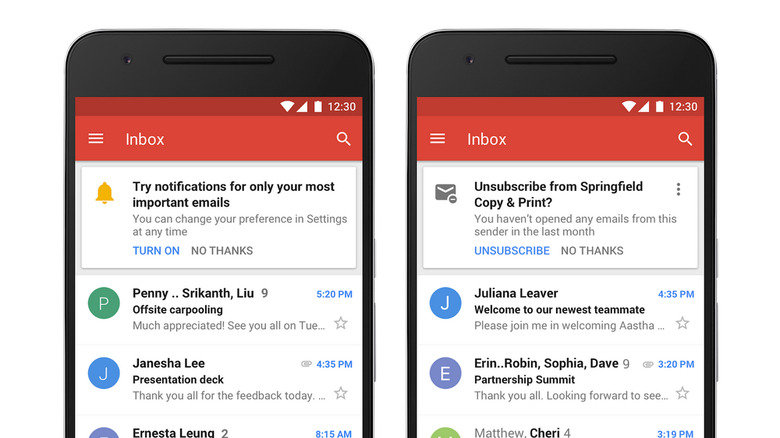 Security is just one component of this redesign, however, and Google has also leveraged its work in AI and machine learning to make your inbox easier to navigate. First and foremost, smart reply – which rolled out on mobile last year – is finally coming to web. Google says that 10% of email replies on mobile are crafted using smart reply, so the feature has definitely found some use among Gmail adherents.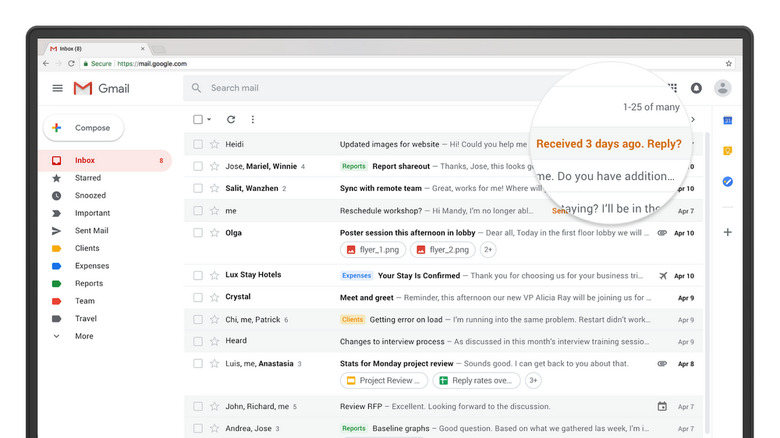 Over on mobile, we'll see two new features geared toward keeping you focused and reducing clutter in your inbox. You can now toggle on high-priority notifications, which causes Gmail to only alert you when you receive an important message and stay quiet all other times. Just as well, Gmail will now automatically recommend unsubscribing from newsletters by analyzing how many you're sent and how often you actually read them.
Back when word of this redesign first hit, one of the most interesting features we heard about was Gmail's new snooze function. This allows you to resurface an important message at a later time, preventing it from falling through the cracks if you receive it during a busy moment. Snooze is indeed included with this redesign, as is a new nudging feature that will prompt you to reply to emails that may have otherwise been forgotten. You can even view attachments directly from your inbox, which will definitely be a big timer saver if you receive a lot of emails and usually need to find attachments quickly.
We'll also see deeper integration with G Suite as a whole, with Google adding quick access to other apps like Calendars, Tasks, and Keep in a new side panel that appears in your inbox. This is also where you'll find your third-party Gmail add-ons, so by putting all of these in one place, Google is trying to cut back on the amount of app switching you need to do as you work. Finally, Google is rolling out a new offline mode that allows you to read, respond to, and archive up to 90 days of emails without an internet connection.
So, there's certainly a lot going on with this redesign, and most of these new features are launching in G Suite's Early Adopter Program today. Google does note that a few features won't be here for a few weeks yet, including "offline support, confidential mode (limited release), Nudging, high-priority notifications and unsubscribe suggestions." When these features might roll out to regular Gmail users has yet to be revealed, but here's hoping that we'll have at least some of these features before summer is over.
SOURCE: Google