"New Generation" of auto-drones coming with NVIDIA Jetson TX1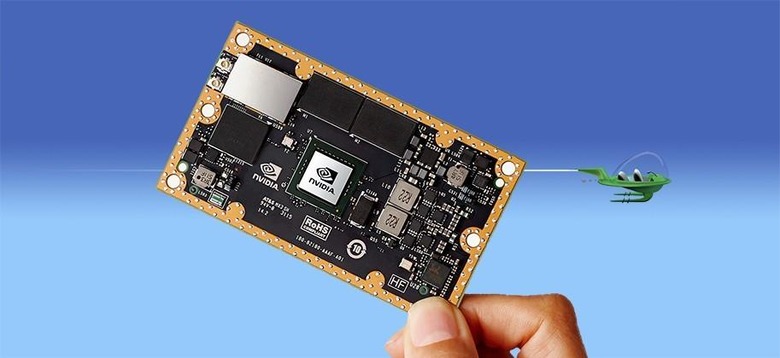 NVIDIA says their new credit-card sized "Jetson TX1" module will enable "a new generation of smart, autonomous machines that can learn." Before you start thinking this is Skynet, all over again, terminators running wild, take heed: they're being made for good, not evil. NVIDIA suggests that these modules will be used in drones that scan crowds to "identify suspicious activity." They'll be used in drones that "navigate their way through a forest for search and rescue." They'll be smart – and they'll be able to grow more intelligent, too.
This system works with computer vision, machine learning, and smart navigation. Autonomous smart devices are at the heart of this computing device's intent. Inside you'll find 1 teraflop of performance, ready to roll with complex tasks such as allowing a drone to navigate obstacles and process conversational speech.
"Jetson TX1 will enable a new generation of incredibly capable autonomous devices," said vice president and general manager of the Tegra business at NVIDIA, Deepu Talla.
"They will navigate on their own, recognize objects and faces, and become increasingly intelligent through machine learning. It will enable developers to create industry-changing products."
Remember the NVIDIA Jetson TK1 and compare it with the NVIDIA Jetson TX1, which will include the following specifications and software:
• GPU: 1 teraflops, 256-core MaxwellTM architecture-based GPU offering best-in-class performance
• CPU: 64-bit ARM A57 CPUs
• Video: 4K video encode and decode
• Camera: Support for 1400 megapixels/second
• Memory: 4GB LPDDR4; 25.6 gigabits/second
• Storage: 16GB eMMC
• Wi-Fi/Bluetooth: 802.11ac 2x2 Bluetooth ready
• Networking: 1GB Ethernet
• OS Support: Linux for Tegra
• Size: 50mm x 87mm, slightly smaller than a credit card
The Developer Kit version of the NVIDIA Jetson TX1 will be available for preorder starting on the 12th of November for $599 USD inside the United States. For those of you outside the USA, you'll have to wait for a few more weeks.
You'll find the final version of the Jetson TX1 module available in early 2016 for a suggested price of $299 (in quantities of 1,000 or more) around the world.