New, detailed Star Wars Millennium Falcon drone hits the skies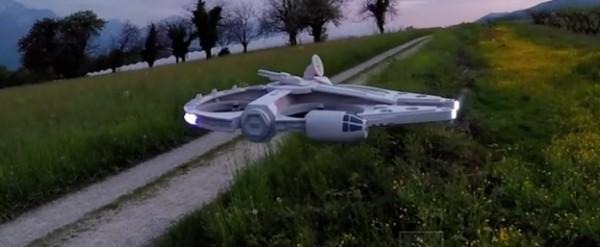 We saw designer Olivier C. create a veritable army of Star Wars drones. From an Imperial Star Destroyer to a TIE Fighter, to the Millennium Falcon, we've wanted to play with them all. Now, the drone-master is back with a new Millennium Falcon drone that is bigger than any of his previous creations.
This version has a some intricate details that were missing from the Olivier C.'s first Millennium Falcon, including a full paint-job. The silhouette pops with added antenna and turrets. The designer admits that this quadcopter drone is a bit more difficult to control that his earlier models, which is an important detail because no one wants to see the Millennium Falcon crash and burn.
Never satisfied with a job well done, Olivier is already gearing up for another Star Wars build. Up next for the designer is a variant on the TIE Fighter, that might also be bigger and more detailed than his previous TIE drone.
Check out this video of the drone in action, flying around the French countryside. There are some great shots where you can see the Millennium Falcon's silhouette against the sunset. Can't say I didn't tear up with nostalgia. The force is strong with this one; I can't wait to see what he brings to the table next.
Source: CNet