New Audi TT RS Coupe and TT RS Roadster pack new 400hp 5-cylinder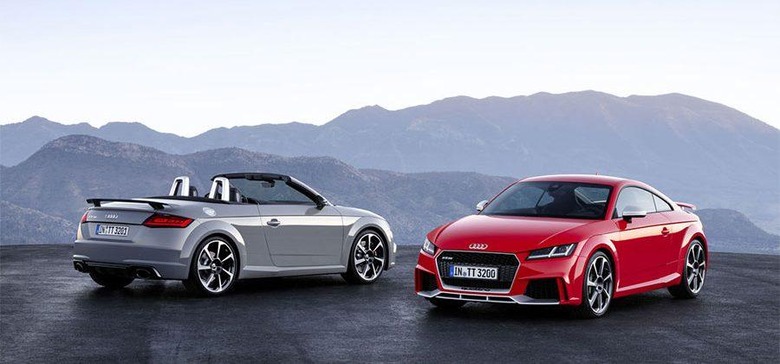 Audi is rolling out the most powerful TT ever with new Coupe and Roadster designs debuting at the Beijing Motor Show. The heart of the TT RS Coupe and Roadster is the new 5-cylinder 400hp engine that makes 354 lb-ft of torque. The 400hp output is 60hp more than the previous model. All that power and torque goes to the road via the famous Audi Quattro all-wheel drive system and a 7-speed S tronic transmission.
Between the powerful 5-cylinder and AWD, the TT RS Coupe can reach 62.1mph in 3.7 seconds and the Roadster needs only a couple ticks more than the Coupe at 3.9 seconds. Another cool new feature in the revised TT RS cars is a first for a production Audi with available OLED tail lights. The new TT RS cars are very low to the ground with a height of only 4.4 feet and Audi says this gives the car more control as it enters curves for improved handling. The Roadster can drop the top while cruising at speeds up to 31.1 mph.
TT RS buyers can choose from aluminum or carbon fiber trim elements inside the car and the engine start button is on the steering wheel like a racing car. The car has four driving modes from comfort to dynamic for performance and Audi uses an infotainment system that has a WiFi hotspot and navigation system with gas pricing and other POIs.
Audi uses a unique hands free phone call system in the car that integrates microphones into the seat belts in the Roadster for better speech quality when cruising with the top down. The TT RS Coupe will start at 66,400 euros with the Roadster starting at 69,200 euros with both cars landing in the fall of 2016.
SOURCE: Audi