New Apple Mac mini with NVIDIA GeForce 9400M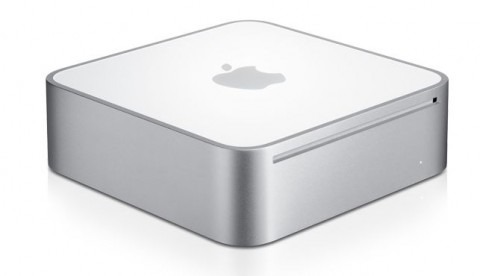 Apple have announced a new version of the Mac mini, and as expected it includes refreshed NVIDIA graphics and a faster Intel Core 2 Duo processor.  Two basic mini models are available, both with an 8x SuperDrive, NVIDIA GeForce 9400M graphics and 2.0GHz Intel Core 2 Duo; a 2.26Ghz CPU is an option.
It seems the leaked images were correct, too, as around the back there are the distinctive five USB 2.0 ports, together with the new Mini DisplayPort and a Mini-DVI output. Other connectivity includes AirPort Extreme WiFi n, Bluetooth 2.1+EDR and gigabit ethernet, plus FireWire 800. There's also a combo optical digital input and output.
Up to 4GB of RAM can be specified, and up to 320GB of storage. The new Apple Mac mini range starts at $599 with 120GB of storage, 1GB of RAM and no keyboard, mouse or display; the second model, at $799, has 2GB of RAM and 320GB hard-drive. The 2.26GHz Core 2 Duo is a $150 option, while doubling the RAM is a $100 option.