New Apple iMac 20-inch and 24-inch announced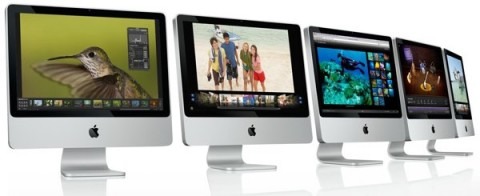 Apple have announced an updated iMac desktop PC, with Intel Core 2 Duo processors up to 3.06GHz, either 20-inch or 24-inch LCD displays, and up to 8GB of RAM.  The new iMac can be fitted with up to 1TB of storage, and has integrated AirPort Extreme WiFi n, Bluetooth 2.1+EDR and Mini DisplayPort.
Other connectivity includes gigabit ethernet, one FireWire 800 port, four USB 2.0 ports, a combined optical digital audio input/line-in, and a combined optical digital audio output/headphone socket.  The 20-inch Apple iMac runs at 1680 x 1050 resolution, while the 24-inch Apple iMac runs at 1920 x 1200; each has a glossy screen.
Graphics are courtesy of either an NVIDIA GeForce GT 130 512MB or ATI Radeon HD 4850 512MB, which is a $50 option.  All of the new Apple iMacs are listed as shipping within 24hrs, and prices start at $1,499 for the 24-inch and $1,199 for the 20-inch.