New Amazon Fire HD 10 adds Alexa hands-free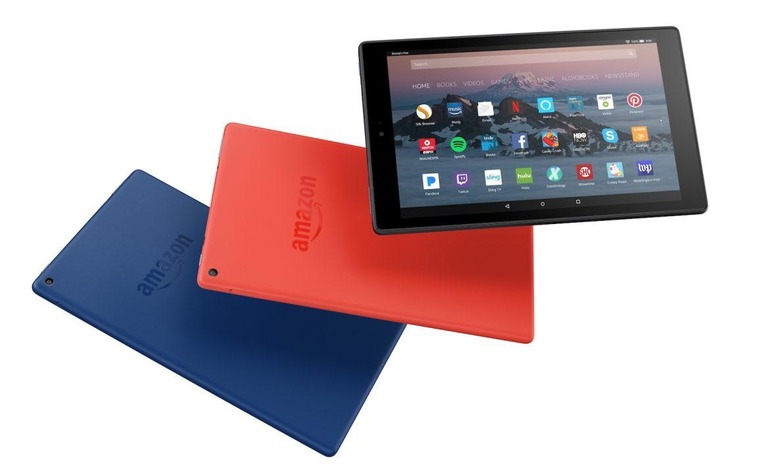 The tablet segment may have stalled, but Amazon believes there's still room for an impressively potent, surprisingly affordable Android model. Welcome, then, the Amazon Fire HD 10, the newest update of its 10.1-inch slate, with a 1080p Full HD display and quad-core 1.8 GHz processor. The headline specs might be speed, but the price is just $149.99.
Your money gets you a tablet that's 30-percent faster, Amazon says, than the old Ford HD 10. RAM is 2GB while storage is 32GB or 64GB; you can add up to 256GB more to the latter via the tablet's microSD card slot. As you'd expect, Amazon On Deck can make use of that space to download TV shows and movies for offline viewing while you're on a plane or otherwise disconnected.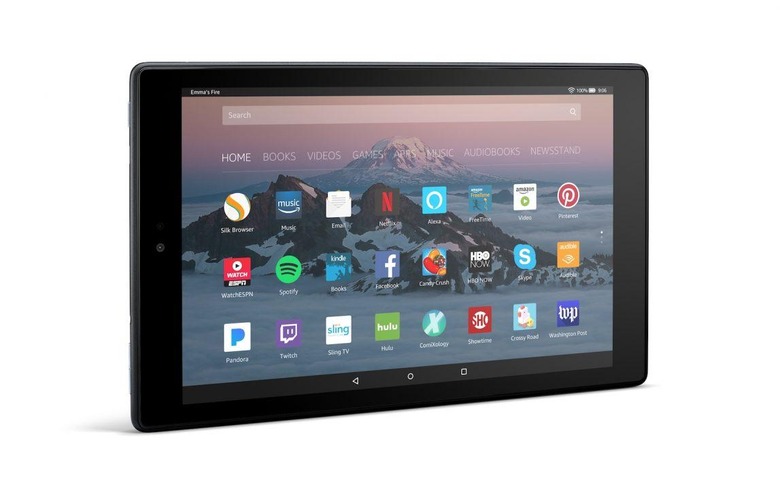 The other big change is Alexa. Now, for the first time on an Amazon tablet, you can activate the virtual assistant hands-free, just as you would with an Echo smart speaker. As with those speakers, you can use Alexa to load music and audiobooks, answer questions, bring up your calendar, and interact with your connected smart home devices.
Rather than having to hit a button to bring up Alexa, you can simply say "Alexa" to summon her. Like the Echo Show, there's support for instantly seeing a preview from select connected security cameras, too. If you've got a Nest, Ring, or Arlo camera, you can ask to see what they're seeing, directly on the Fire HD 10.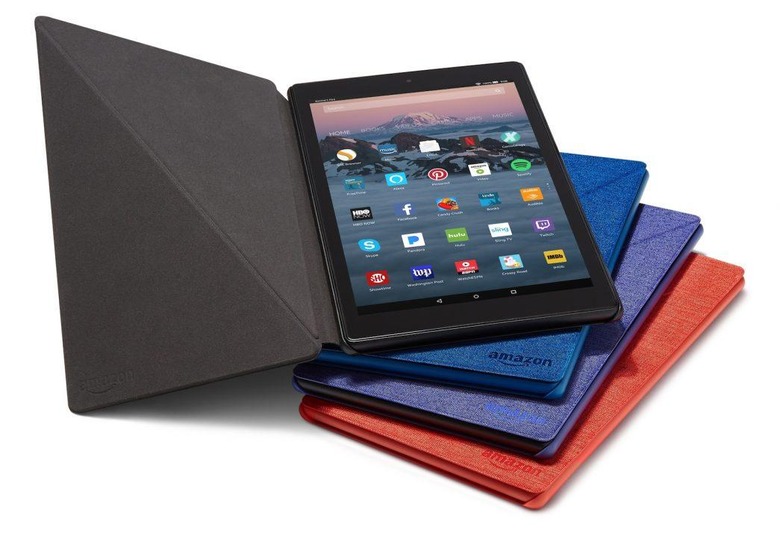 Battery life, Amazon claims, is up to ten hours of mixed use. There's also both front and rear cameras, together with dual-band 802.11ac WiFi for better wireless connections. No 4G LTE option, sadly, but Amazon does throw in Dolby Atmos Audio support with dual stereo speakers.
The tablet itself comes in black, marine blue, and punch red. Amazon will also have a range of covers – in black, marine blue, punch red, and cobalt purple – which will both protect the Fire HD 10 and stand it up in either portrait or landscape orientations. You might not actually need one, though: Amazon claims that the Fire HD is more durable than the iPad Pro 10.5 in its tumble testing.
The Fire HD 10 goes up for preorder from today, priced from $149.99 for the 32GB model or $189.99 for the 64GB model. It's worth noting, though, that those prices are the "subsidized" figures based on you allowing Amazon to show its "special offers" ads on the tablet's lock screen. If you don't want those, you're looking at $164.99 for the 32GB or $204.99 for the 64GB. Either way, the covers are $39.99 apiece.