New $20 bill to depict Harriet Tubman; 3rd woman ever on US paper money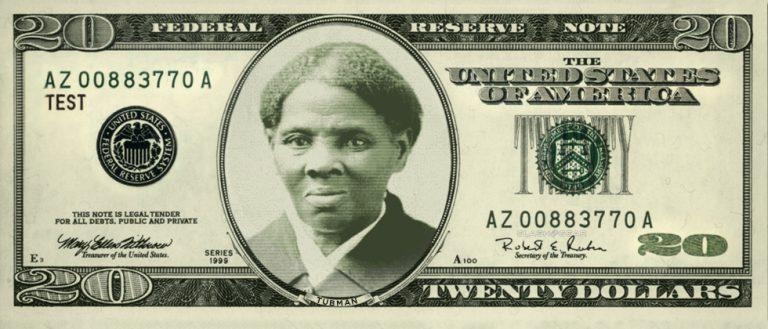 The new $20 bill will feature a portrait of Harriet Tubman – civil rights activist and freedom fighter. This was announced by United States treasuring secretary Jacob J Lew, who also outlined plans for new $10 and $5 notes. The new set of paper money bills will not look like what you're seeing in this article – instead, they're going to be at least partially redesigned aside from the changing-out of historical figures. This is as much about aesthetics as it is about security features.
While the $10 bill was originally slated to be changed out first, the US Treasury has opted to hit the design process and printing press on the $20 first. To be clear – while there was some outcry from CERTAIN members of the public over the removal of Alexander Hamilton or Andrew Jackson from their respective bills, neither will be taken off completely.
The $20 bill will retain Jackson on the reverse side of the note, featured with the White House. The front of the new twenty will include a portrait of Harriet Tubman. This will be the first time an illustration of a real female human will be included on a piece of USA-based paper currency in more than 100 years.
Wait, you might be saying – there was another woman on a piece of paper money in the USA? Why yes, there was!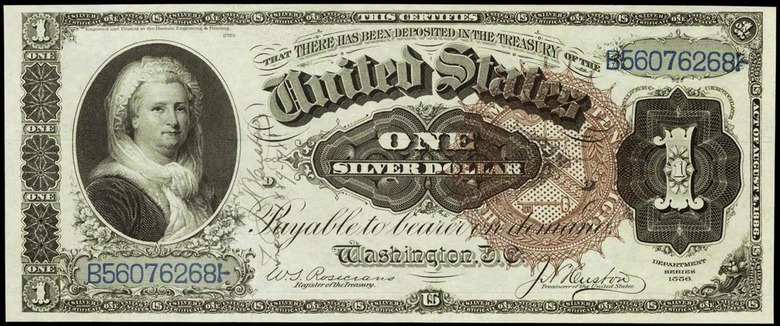 Back in the 1880s and 90s, Martha Washington was included on the front of a $1 "Silver Certificate."
There was just ONE other time a real human female was included on paper US currency – in the 1860s on a $20 bill. On the back side of this note was none other than Pocahontas.
Of course she's being baptized into the Christian faith by a holy man of some sort, but there she is.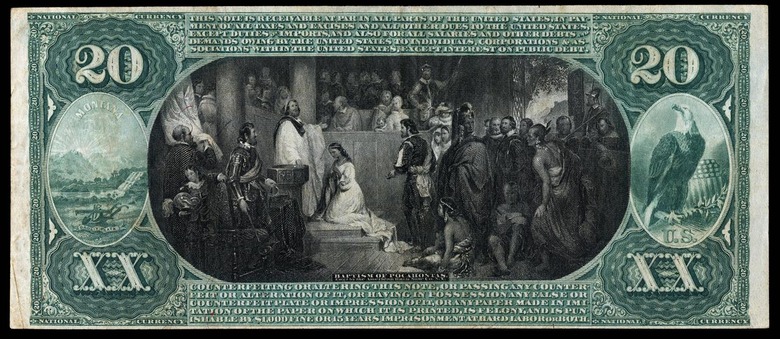 If you have either one of these bills, you're either sitting on around a hundred dollars worth of cash, or upwards of several thousand. Not necessarily because of their content, exactly, but because of their rarity.
The new $10 bill will also include some great new historical figures. Lucretia Mott, Sojourner Truth, Susan B. Anthony, Elizabeth Cady Stanton, and Alice Paul will all reside near the US Treasury building – while the front of the bill will continue to include a portrait of Hamilton.
The front of the $5 bill will continue to feature President Abraham Lincoln. On the back of this bill will be a set of historic events depicted in a new illustration. This illustration will include Martin Luther King, Jr., Marian Anderson, and Eleanor Roosevelt, too!
At this time images of the new bills have not yet been issued. This bit today was just an announcement that the bills are in the process of being made.
They'll all be appearing win the year 2020 in conjunction with the 100th anniversary of the passing of the 19th Amendment, which granted women the right to vote in these United States of America.
TO BE CLEAR – this is not just the third time a woman of any kind has been on any paper currency in the United States – there've been plenty of depictions of "justice" and images of common women citizens. This is the third time a real woman – a historical figure, not just a female character or no-name image – has appeared on a piece of US paper money.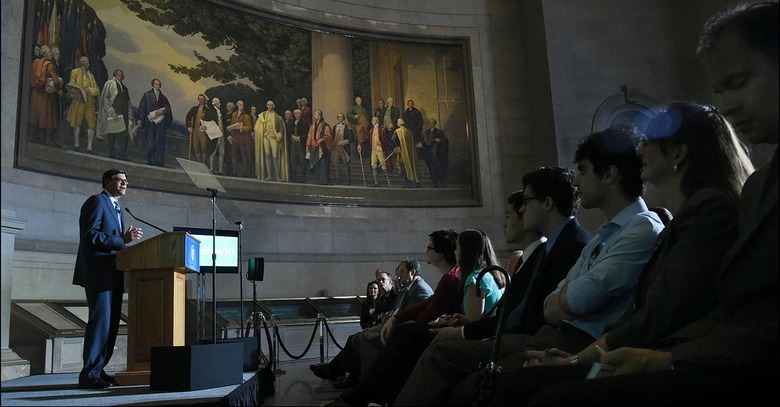 "This process has been much bigger than one square inch on one bill, and along the way, we heard about countless individuals who contributed to our democracy," Treasury Secretary Jacob J. Lew VIA Treasury Department on Medium.
The image above shows Treasury Secretary Jacob J. Lew delivering remarks on currency redesign at the National Archives on June 18, 2015. His statement above and below was delivered this afternoon – April 20th, 2016.
"Our website, Modern Money, will highlight many of the names that we heard throughout this process," said Lew, "and help tell some of the many stories that inspired us. Of course, more work remains to tell the rich and textured history of our country. But with this decision, our currency will now tell more of our story and reflect the contributions of women as well as men to our great democracy."