New 10.2-inch iPad released today for $329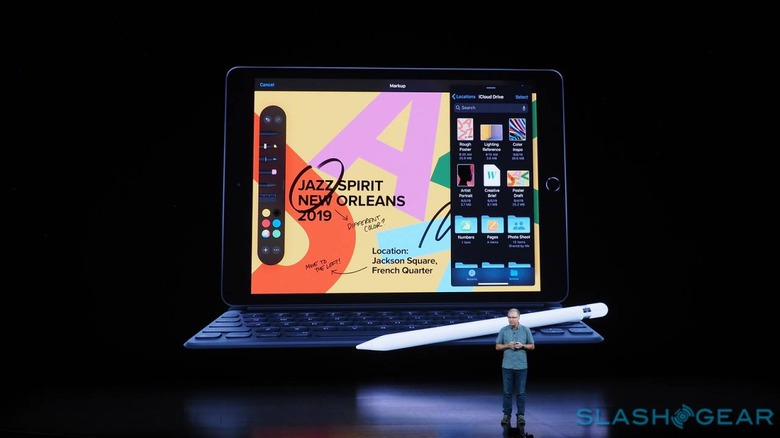 Before today, Apple had an iPad lineup that included 5 unique models. Starting with their next launch, they'll have a sixth. Apple's Greg Jozwiak took to the stage at today's Apple event and spoke about how the 9.7-inch iPad is the most popular iPad in the world. He suggested that the 9.7-inch iPad is the first iPad "60% of people" use. Today Apple revealed a slightly larger device so that those people can ramp up – the 7th-gen iPad.
This new 7th-gen iPad looks a lot like the 9.7-inch iPad, with compatibility with keyboard covers and Apple Pencil – but with a slightly larger display. This device has a 10.2-inch Retina display and an industrial design extremely similar to that of its predecessor, complete with a circular home button and Touch ID.
This newest iPad is not an "iPad Pro" and is not an "iPad Mini" – instead, it's a larger version of the longest-running iPad line – the standard iPad. This version of the iPad may not be called iPad Pro, but it still has an A10 Fusion chip and a Smart Connector to work with a full-size smart keyboard.
The iPad 7th-gen (with 10.2-inch display) works with a single back-facing camera. This camera is 8-megapixels strong, and has NO LED flash. There's a headphone jack at the top of this iPad. There's a cellular-connected model as well as a Wi-fi-only model. The carrier version has the ability to connect with gigabit LTE.
This new iPad will be released starting today for $329 USD. For education customers, this iPad stars at $299 USD. Users can order today and shipping begins at the end of this month. Stay tuned as we get our first hands-on and first impressions with this device this afternoon – then a full review soon!