Netgear's Orbi system looks to shake up the WiFi router space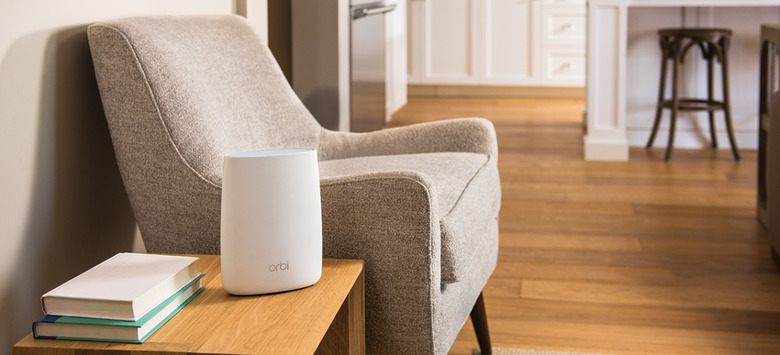 Dead zones in home WiFi networks can be a rage-inducing problem, but Netgear is looking to make that issue a thing of the past with its latest router. The Orbi functions a bit differently from most WiFi routers you'll come across, as it's more of a "WiFi system," featuring both a router and an accompanying satellite meant to offer a more consistent wireless signal throughout your entire home.
Setting up the Orbi system seems fairly straightforward, as Netgear says that the router and the satellite will come pre-paired out of the box. Users will just have to plug the router into their modem and then place the satellite somewhere near the center of their home. Once the WiFi network has been set up, Netgear promises that its Orbi system will cover an area of 4,000 square feet, enough to allow most homes to bathe in that wonderful WiFi.
Orbi comes featuring a Tri-Band mesh network, with one 1.7Gbps, 5GHz band dedicated to sharing the wireless signal between the router and the satellite. The other two are for the network itself, offering up 2.4 and 5GHz WiFi bands. One benefit of having a band dedicated to transmission between the router and the satellite, Netgear says, is that there's no need to have line of sight between two, making placement of the satellite much easier.
The Orbi system – which supports 802.11ac AC3000 WiFi and features four Gigabit Ethernet ports on the both the router and the satellite – will arrive at retailers in September and will come with a $399.99 price tag. Netgear says it'll be offering packages that feature more satellites for larger homes within the calendar year, with standalone satellites for expanding the basic system becoming available within the same time frame.