Netgear's Nighthawk X10 claims to be 'world's fastest router'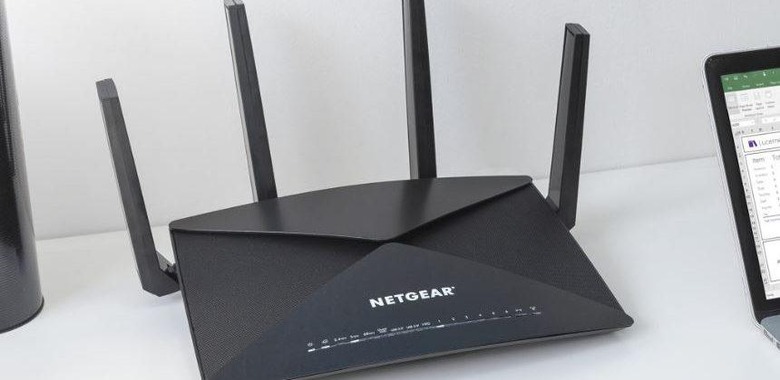 Netgear has introduced its new Nighthawk X10 router today, and it sounds about as premium as you can get. The company is saying that not only is the Nighthawk X10 the world's fastest router, but it's also the first geared toward media streaming. Make no mistake, those hefty claims translate to a high asking price, with Netgear pricing the Nighthawk X10 at $499.99.
What does that get you? The Nighthawk X10 is equipped with a 1.7GHz quad-core processor and Quad-Stream Wave 2 WiFi architecture, supporting 802.11ad WiFi at 60Hz. Through that Quad-Stream Wave 2 functionality, Netgear says the router is capable of reaching download speeds up to 7.9 Gbps. Simultaneous streaming to multiple devices will be achieved through MU-MIMO technology, and four external active antennas will attempt to keep signal strength high.
One of the more impressive features is that the Nighthawk X10 is capable of doubling as a Plex server without the need for a computer, and buying one nets you three months of Plex Pass for free. The Nighthawk's 10 Gbps ethernet port supports a fiber connection, and the router itself is compatible with network attached storage solutions. This allows users to quickly back up to and stream media from their own on-site storage.
The Nighthawk ships with six Gigabit ethernet LAN ports and two USB 3.0 ports, the latter of which can be used to connect additional storage. Once that additional storage is connected, you'll be able to remotely manage it using Netgear's ReadyCLOUD app. If you're more of a cloud person, Netgear has you covered there too, offering six months of unlimited Amazon Drive storage as a perk for buying the Nighthawk X10.
All in all, the Nighthawk X10 sounds like a pretty serious router. If you're in the market for a top-tier router, it might be worth giving this one a look, but that high price of entry will likely scare some folks off. In a somewhat uncommon move, there's no gap between announcement and availability, so those interested in picking one up can find it in retail stores and online starting today.