Netgear Orbi WiFi 6 Mesh is a $700 router for the speed obsessed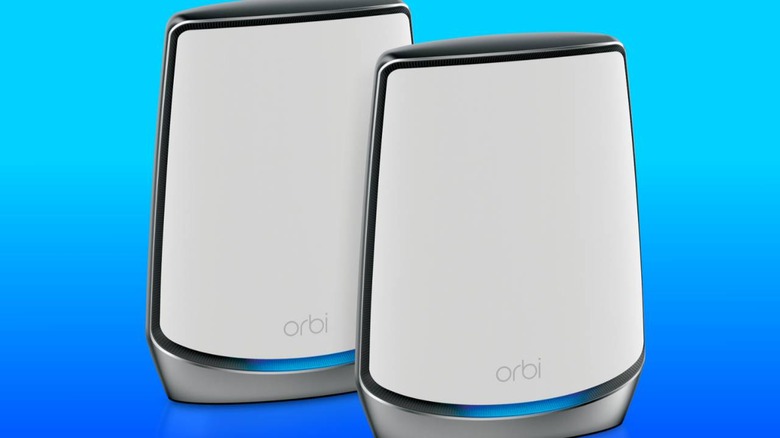 Get ready for more speed and more range in your home network, with Netgear's Orbi WiFi 6 Mesh system arriving with compatibility with the latest wireless standard. The tri-band routers – which look charmingly like robot stegosaurus plates – promise more channels for WiFi devices, making sure that slower gadgets don't hold up their faster counterparts in the process.
It joins the small handful of WiFi 6 compatible router systems we've seen, all bearing the WiFi Alliance's new, easier-to-understand nomenclature. The consumer name for 802.11ax, whatever you call it the advantages over earlier versions like 802.11ac – which it's of course backward-compatible with – include both a bump in range and speed.
At the same time, Netgear says, gigabit home internet connections are becoming more commonplace, or at least more available. The Orbi WiFi 6 even allows two such connections to be aggregated across two of its router's ethernet ports; for most people, just using the 2.5 Gbps WAN port will be enough.
Each unit has 4x4 radios for 2.4 GHz and 5 GHz client networks. However there's also a third, 5 GHz radio, which Netgear uses as the backhaul connection. That dedicates a whole separate radio to keeping the Orbi WiFi 6 mesh units talking to each other, without clogging up the client channels.
Compared to the last-generation WiFi 5 systems – aka 802.11ac – Netgear says its new mesh network should deliver up to a fourfold increase in capacity. That's enough for streaming 4K/8K to multiple devices. Up to four data streams can be carried on each band.
Netgear says that its two unit system would be enough for homes up to 5,000 square feet in size. It comes with a single WiFi router (AX6000) and a single satellite, but you'll be able to add further satellites if you need to expand coverage. Each has four gigabit ethernet ports, and you can control the whole system – including setting up guest networks plus Amazon Alexa and Google Assistant integration – through the Orbi companion app.
All this speed doesn't come cheap, mind. The Orbi WiFi 6 system is priced at $699.99 for two mesh units, and is available for preorder now. It's expected to begin shipping in the US on September 30.