Netgear Arlo Go wireless security camera works with AT&T's 4G LTE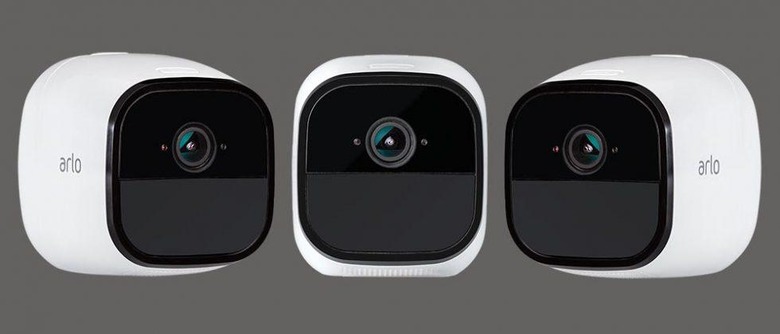 Netgear has introduced another Arlo security camera, this one the Arlo Go. The camera looks very similar to the Arlo Pro we detailed last month, offering completely wireless functionality alongside a design that can handle exposure to the elements. According to Netgear, the Arlo Go is the first wireless mobile security video camera that supports AT&T's network, enabling it to work in places that don't have WiFi but that do have 3G or 4G LTE coverage.
As with many security cameras of this type, Arlo Go works with a mobile app, Web browser, or Apple TV to provide on-demand access to its video feed. The camera includes the Arlo Basic plan for accessing up to 7 days' worth of audio and motion-triggered video recordings. This plan doesn't expire, making it a more attractive option than some alternatives. Up to five cameras can be used per Basic plan account.
The camera itself is fairly small at 3.5 x 2.73 x 3-inches; it records video at up to 1280 x 720 resolutions in H.264 format. The lens has a 130-degree FOV, while the night vision is made possible thanks to 850nm LEDs that illuminate up to 25ft. The camera also offers 8x digital zoom, and there's both an integrated microphone and speaker.
Arlo Go can be setup to send alerts for motion it detects up to 23ft away — both push notifications and emails are sent. The audio detection is also adjustable and can be set up to send both push and email notifications. As far as construction goes, the camera has an IP65 weather resistant rating and can handle temperatures ranging from 4F to 113F.
The company plans to offer a rechargeable battery and camouflage skin accessories, as well. The camera will be available in 'early 2017' for $449.99 USD. For now, consumers can join a pre-order list to show their interest.